Gold and commodities up 56%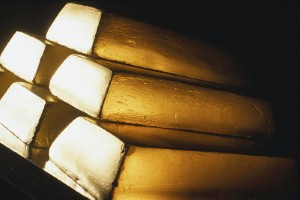 Dubai Gold and Commodities Exchange (DGCX) has improved by 56 per cent year-on-year in October.
It currently consists of 12.17 million contracts with a total value of $25 billion (£15.6 billion). In terms of gold futures, used by companies to make purchases based on upcoming prices, volumes were up 60 per cent from the month before, totalling 45,928 deals.
Gold is often seen as a staple sign of financial wealth and stability, so a strong gold trade is indicative of continued improvement for the city.
DGCX's chief executive officer Gary Anderson said: 'With almost a quarter of all physical gold traded globally passing through Dubai, we believe there is a very strong market for a spot gold contract. Such a contract will not only help merchants enhance price risk management and profitability, it will also enhance liquidity in the gold market by removing the need for offshore credit and collateral for gold trading.'
The strong business and sales in gold represents the luxury and wealthy lifestyle in Dubai, experienced by both local residents and passing tourists. Earlier this month, Dubai Duty Free reported gold sales were one of the highest selling areas within the first ten months of the year. It stated transactions had increased year-to-date by seven per cent to AED 503 million (£85 million) - the only area stated to be above this was perfume, which made AED 835 million.
As an example, the recent Dubai Motor Show featured, among a range of luxury vehicles and sports cars, a unique gold Lamborghini on display - although anyone was free to pay the price tag, in excess of $7 million(£4.4 million), to take it home.
DGCX also reported growth for precious metal contracts, with silver futures rising 88 per cent to 2,882 contracts - the highest it has been in the emirate so far this year.
This news comes after Dubai Statistics Centre announced gross domestic product had improved by 4.9 per cent in H1 2013, the fastest seen in six years, further suggesting a strong financial market within the sheikhdom.