Global Village welcomed 5m visitors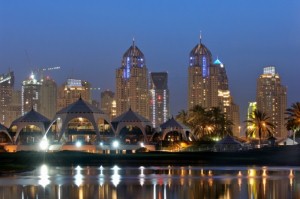 Dubai's Global Village welcomed a total of five million visitors this season.
Closing on April 12th, the event ran for its longest duration this time around, lasting for 190 days. Over 12,000 performances took place during the celebrations, alongside 60 firework displays and numerous shows for children.
Now in its 18th season, the Global Village was designed to benefit from the Eid festival in October and the traditionally-hot weather during the school holidays in March and April. The shows which drew in the largest crowd included the Lords of Lightning, the Vander Skywheel, Fairy Tales on Ice and All Star Dunkers.
Meanwhile, the National Day festivities allowed visitors to gain an understanding on life in the emirates and showcased traditional entertainment performances from Liwa and Youllah dancers. Organisers stated the events would not have been such a success had it not been for the efforts of over 10,000 staff members from around the world.
The celebrations coincided with many other festivals, such as the Dubai Shopping Festival and Dubai Food Festival. These fairs allowed visitors the chance to experience cuisine from around the world, while enjoying performances from stilt walkers, dancers and clowns.
Plans have already been announced for the 19th season of Global Village, which is expected to kick off on November 6th. It is anticipated to run until April 11th 2015, although as the most recent event has shown, it could always be extended further.
Chief operating officer Ahmed Hussain commented: 'Every year we are committed to ensuring the highest levels of quality and looking to see if there are areas to make the visitor experience better. This is why we have commissioned an independent customer feedback survey to further enhance our services.'
Mr Hussain added the new dates would mean the celebrations could run more closely to Dubai's peak tourist season, allowing more visitors to benefit from the cooler weather experienced at this time. Furthermore, he hoped it would allow international tourists a better opportunity to experience what the emirate has to offer.