Gitex Shopper to 'boost business tourism'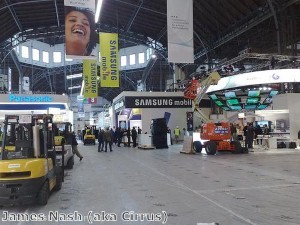 The Gitex Shopper - the Middle East's largest consumer IT and electronics retail show - is now in full swing, promising to attract an influx of business tourists from across the region and further afield during its eight-day run.
According to industry commentators, the event provides electronic retailers a unique opportunity to showcase their strength in product offering, experience and expertise. This year, there is a strong line-up of exhibitors ready to present over 30,000 products to delegates.
Trixie LohMirmand, senior-vice president of the Dubai World Trade Centre and organiser of the event, is expecting another successful show. She said: "This year looks to be the biggest edition of Gitex Shopper yet, with a number of incredible products, new launches and discounts. There is so much on offer for visitors, it really is the one-stop shop for all your electronic needs."
Electronics powerhouses and well-known brands will be fighting hard to deliver the best prices and value on an array of goods, such as smartphones, tablets, laptops and smart televisions. Visitors will be able to see big firms, including Better Life, Dell, Lenovo, Samsung and Siemens, promoting their goods at this year's exhibition.
Last year, 210,324 visitors from the UAE, Egypt, Malaysia, the Netherlands, Singapore and the UK attended the week-long event, generating AED245 million (£41 million) in sales. Organisers of this year's Gitex Shopper expect it to be even more successful.
Dubai's meetings, incentives, conferences and exhibitions (MICE) tourism sector is moving from strength to strength, with a strong performance positively affecting the hotel industry in the emirate.
Christopher Hewett, a senior consultant with TRI Hospitality Consulting in Dubai, told The National: "The MICE market is strong on the back of Dubai's Department of Tourism and Commerce Marketing striving to get a lot of major international and regional conferences to be held in Dubai, and the biggest driver is the Dubai World Trade Centre and the exhibition centre."
The event is being hosted at the Dubai World Trade Centre and will be open from 11:00 to 23:00 GST until October 4th.