Giant dhows and beautiful bubbles spice up Dubai events calendar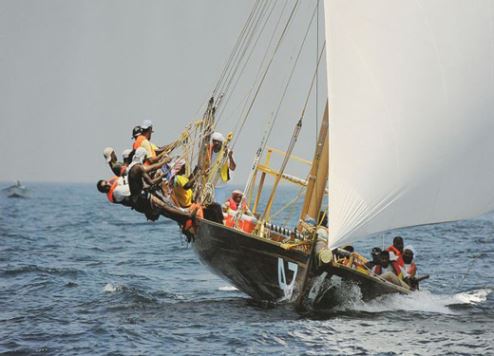 Dubai's events calendar appears action-packed this month, with giant dhows and beautiful bubbles headlining proceedings.
On May 21, the Al Gaffal Dhow Race will kick off from the UAE's small uninhabited island of Sur Bu Na'air, 50 nautical miles west of the coast.
It's a fitting starting point for a race designed to commemorate the pearl divers who would trade their precious commodity in Dubai when it was an early trading point.
Sur Bu is where the pearl fleets once stopped on their long journey home after months at sea looking and diving for pearls.
The dhow race, which is now in its 27th year, has grown from featuring fifty three 43-feet-long dhows during its first year in 1991, to become a major sporting event in 2016.
Today it features 100 third-version traditional boats measuring some 60 feet and involves more than 3,000 participants sailing the waters of the Gulf.
The dhows are pristine, with beautifully polished hulls and crisp sails, but retain traditions of the past with strict rules in place to maintain their heritage.
The term Al Gaffal means 'The Return' and once the race has started at Sir bu Nair, the dhows 'return' to various locations along the Dubai coast such as Mina Seyahi or the Burj Al Arab.
It's a race of endurance given the dhow crews race for up to eight hours in hot weather.
For enthusiasts seeking a good place to view this traditional sporting event, Dubai's RTA offers ferry rides that follow the races at various points close to the marina.
Also running May 19-21 at the Dubai World Trade Centre (DWTC) is the spectacular Arabian Bubble Celebration. The event will encompass 12 shows and will feature Guinness world record holders Melody Yang and Deni Yang, who are bringing their mind-blowing visual display to Dubai for the first time – a 70-minute show involving incredible bubble stunts using lasers and 3D effects.