Get Smart: Dubai's strategy for long-term success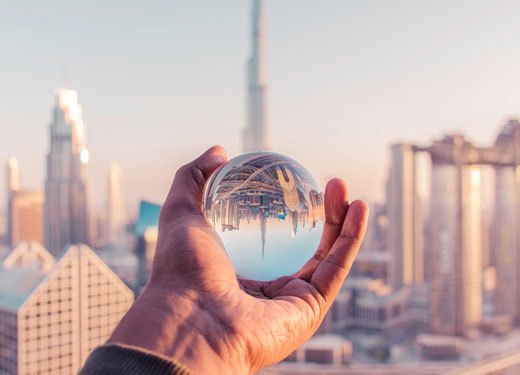 Dubai's ambitious Smart City strategy has made it one of the world's most popular destinations for investment
Dubai is making strong progress in its bid to become the world's smartest city, rolling out a series of ground-breaking initiatives designed to make it a global leader in innovation and a popular destination for investors.
Government authorities previously revealed plans to pursue more than 100 initiatives that aim to encourage collaboration between public and private sectors, covering six key focus areas: transportation, society, lifestyle, economy, government, and environment.
Dr Aisha Bint Butti Bin Bishr, the director general of Smart Dubai, the government department charged with bringing the city's smart city strategy to fruition, recently revealed it had rolled out more than 130 initiatives and 1,129 smart services designed to improve the lives and well-being of the city's inhabitants.
"We have been making strides in our mission to implement the Dubai Smart City Project, providing advanced infrastructure and connecting it to city-management systems across high-speed networks. We are committed to supporting the emirate's push to establish a smart economy across key sectors, such as trade, tourism, financial services, and ICT, all the while working to ensure the global competitiveness of the Dubai economy," she said in an interview with The Khaleej Times.
The Smart Dubai strategy is the vision of HH Sheikh Mohammed bin Rashid Al Maktoum, Vice President and Prime Minister of the UAE and Ruler of Dubai.
After the official launch of the project in 2014, Sheikh Mohammed tweeted to his millions of followers: "Today we launched our strategy for transforming Dubai into the smartest city in the world in the upcoming three years. It [the strategy] includes 100 initiatives, and transforming 1,000 government services to smart services.
"Our ambition is for this project to touch every individual in our country — every mother in her home, every employee at his work or investor in his project or child in his school or doctor in his clinic. Our goal is a happier life for all and we ask God to help us achieve this."
According to Dr Aisha, the Smart Dubai Platform will be "unlike any other smart city platform operating in the world today. Fully architected through an iterative and collaborative process, the platform has been designed with the citizen, resident, visitor, investor and government at the centre".
UAE telecommunications provider du, which is the lead strategic partner in the Smart Dubai project, is installing more than 2,000 broadband hotspots across the city to provide free Wi-Fi access to the city's residents and visitors.
Ultimately, the Smart Dubai plan calls for free and ubiquitous Wi-Fi access across the entire emirate.
Providing 'always-on' access will enable the city's planners to develop a range of solutions based on a shared data platform, says Dr Aisha.
"To achieve our ambitious mandate, Smart Dubai has pioneered the most comprehensive blueprint globally, encompassing the whole city, not just one sector or district," she says. "We are unifying operations to enable impact across the city, from infrastructure connected to the Internet of Things, to open data and shared data, deriving insights and innovation."
Du CEO Osman Sultan says Dubai will "set a new global-standard for smart applications, providing world-class services to residents and visitors alike".
The success to date of Dubai's Smart City strategy is borne out by the volume of international investment the city's high-tech industries have attracted in the past 24 months.
In fact, the UAE attracted 70% of all start-up funding invested across the Middle East and North Africa (MENA) region in 2018, with the majority of this going to Dubai, according to the latest MENA Venture Investment report published by investment analyst Magnitt.
Thirty percent of all investment transactions across the region also involved UAE headquartered start-ups, according to the report.
Meanwhile, total foreign direct investment (FDI) in Dubai rose 41% year on year in 2018, according to government data.
The emirate attracted Dhs38.5bn ($10.5bn) in FDI capital flows in 2018, with the United States, India, Spain, China and the United Kingdom accounting for 70% of the total figure.