GCC predicted to complete $128bn in new builds in 2014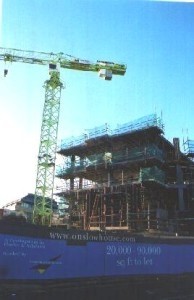 The construction sector in the Gulf Cooperation Council (GCC) is expected to experience a 92 per cent boost in the valued of completed building projects during 2014, according to new research.
This means the value of new builds will jump from $66.9 billion (£39.7 billion) to $128.5 billion during 2014. The study - a bi-annual study conducted by Ventures ME - also predicts expenditure on interiors and fit-outs to be $9.6 billion, which is 29.6 per cent more than what was spent during 2013.
The research analyses the building construction and the fit-out and interiors markets in six specific sectors, which are residential, commercial, hospitality, retail, educational, and medical, in each of the GCC countries.
According to the study, the medical, residential and hospitality sectors will account for more than half of the $128.5 billion worth of projects this year, making up 24.4 per cent, 23.3 per cent and 22.6 per cent of the total respectively.
In healthcare, the UAE will be developing most of the projects compared to other countries within the GCC. Out of a total market forecast of $31.4 billion, the country will make up for $3.1 billion, which is significantly higher than the $277 million achieved last year.
Commercial property is expected to account for 12.5 per cent of the total spend, followed by 5.8 per cent for the education industry and 1.09 per cent for the retail sector.
The study predicts that the UAE will see a flurry of big-ticket projects and the country remains at the top of other GCC members for the value of its ongoing plans, with $1.4 trillion worth of builds currently in the works. Saudi Arabia follows with $1.02 trillion, Qatar with $420 billion, Kuwait with $326 billion and Oman with $189.9 billion.
In addition, the UAE will top the board for residential and healthcare sector builds, spending $251 million and $1.3 billion respectively on such projects.