Game on for Dubai's sports sector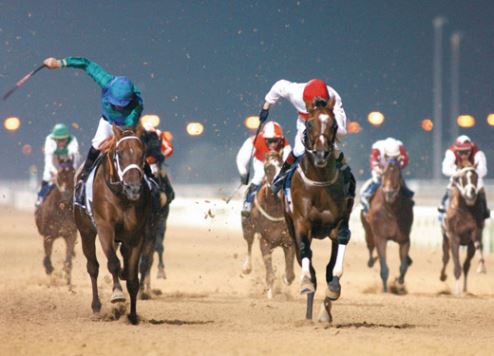 How Dubai's burgeoning sports industry is playing a key role in driving the city's long-term economic growth
"A healthy body is the source of human happiness," according to His Highness Sheikh Mohammed Bin Rashid Al Maktoum, Vice President and Prime Minister of the United Arab Emirates and Ruler of Dubai.
A keen sportsman, particularly in the equestrian field, Sheikh Mohammed not only lives by this mantra on a daily basis, but has ensured Dubai's residents and visitors do too.
Today the emirate plays host to several major sporting events across a number of disciplines, from horse racing and golf to tennis and even sky diving, while plans to build cycle tracks across the city are already coming to fruition, in a bid to ensure Dubai citizens remain healthy in body and mind.
The total annual sports-related expenditure in Dubai was valued at around US$1.7 billion in 2014, according to the recent 'Economic Impact of Sport in Dubai' study by Deloitte.
In addition, the total economic impact of sport in the emirate was a significant $670 million, the report found.
Deloitte took into account sports events, sports facilities and the involvement of residents in sports with the former generating by far the largest expenditure and economic impact.
Gross expenditure on sporting events hit the $709 million mark in 2014 and generated an economic impact of $359 million.
The majority of this value was driven by seven major annual events – the Omega Dubai Desert Classic; the Standard Chartered Dubai Marathon; the Dubai Tour; the Dubai Duty Free Tennis Championships; the Dubai World Cup; the DP World Tour Championship; and the Emirates Airline Dubai Rugby Sevens.
"It is estimated that more than one million spectators watch sports events in Dubai each year, with the highest individual attendance being more than 100,000 at the Emirates Airline Dubai Rugby Sevens over three days," according to the report's executive summary.
"The Dubai World Cup [the world's richest horse race] is the best attended single day of sport, attracting around 80,000 spectators each year."
Sponsorship spend for sports events in Dubai is estimated at $100 million per annum with around 70 percent of this attributed to the seven aforementioned major events.
Dubai has also developed a number of high-quality sports venues, which are capable of hosting a wide range of activities from elite sporting events to grass roots recreational activities. In 2011, a feasibility study into Dubai's capability for hosting the Olympic Games concluded that 70 percent of the 'hard' infrastructure was already planned or in place.
Sports facilities generate $255 million in gross expenditure annually for Dubai and $54 million in economic impact, according to the report.
Venues of note from an economic perspective include Meydan Racecourse, one of Dubai's most iconic venues with a 1.5-km-long 60,000-capacity grandstand as the centerpiece and home to the Dubai World Cup.
Dubai Sports City (DSC), the location for several properties developed by The First Group, is a district dedicated to sport, comprising a range of world-class sporting venues including the Dubai International Stadium, the Els Club golf course, Spanish Soccer Schools and the ICC Cricket Academy.
Other venues worth a mention include Hamdan Sports Complex, which was built in 2010 to host the FINA World Short Course Swimming Championships. It was converted into an indoor multi-sport facility and has since hosted other international aquatic and other sports events. In addition, the Sevens Stadium, the home of the Dubai Rugby Sevens, hosts several sports and entertainment events thanks to its 50,000-capacity arena and a secondary 15,000-capacity arena.
The contribution of Dubai's residents and their participation in recreational sports is also factored into Deloitte's report.
Dubai is the most populous city in the UAE, with an estimated population of 2.2 million at the end of 2013, more than 80 percent of which were foreign-born workers comprising almost 200 nationalities.
"Around two thirds of Dubai's population are aged between 20 and 39. Within these age groups, the most populous is the 30-34 bracket," says the report. "Such a youthful population presents a significant opportunity for growth in sport in Dubai, both in terms of event attendance and participation."
Dubai residents spend around $172 million on sports annually generating an economic impact of $8 million.
"Dubai also has an affluent society, and in the ten years to 2013 levels of personal disposable income grew by more than 72 percent to a collective $24 billion," Deloitte notes. "Sport is likely to be a beneficiary of such a rise in disposable income levels."
Dubai's sports industry also supports significant levels of direct and indirect employment with Deloitte estimating that around 14,500 full-time employees work in the sector, representing around 0.6 percent of the emirate's total workforce. Although volunteers and part-time workers are not included in these figures, Dubai employs more people in sports-related jobs as a percentage of total workforce than countries such as Germany (0.39 percent), Italy (0.33 percent) and Sweden (0.19 percent).
The Dubai government views sport as an important component in the future development of the emirate and the wider UAE. As a result, the sector's economic impact will undoubtedly increase.
The Dubai Plan 2021 is themed 'A City of Happy, Creative and Empowered People' reinforcing the responsibility of individuals to maintain a healthy lifestyle, enabling them to play an active, productive and innovative role in all aspects of society and the economy.
In addition, the UAE Vision 2021 National Agenda aims to increase the number of Olympic and Paralympic medals won by UAE athletes, with a view to making citizens proud of their identity and have a sense of belonging.
The number of local sports events is also on the rise, with residents getting involved in a range of activities and races, from cycle rides and runs to mass yoga and dance sessions.
Deloitte's report draws many conclusions, but poignantly, identifies the World Expo 2020, which will be staged in Dubai, as a "key opportunity to pull the emirate's sports stakeholders together" to boost sports-related tourism.
"With an estimated 25 million visits expected over the six-month period there is significant scope to use sport to draw these visitors back to Dubai in future via the staging of events and demonstration of the emirate's unique sporting infrastructure," says Deloitte.