Foreign trade passes AED 1 trillion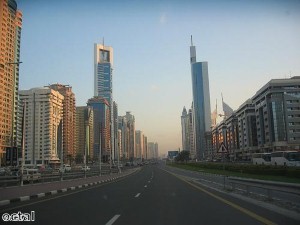 Non-oil foreign trade in Dubai reached AED one trillion (£166 billion) by the end of the third quarter of 2013.
This is a strong improvement from last year, when trade totalled AED 918 billion, with a large portion of this growth down to imports. In Q3 alone, this reached AED 610 billion, compared to AED 546 billion in the same period in 2012.
Figures from Dubai Customs also found exports were up, rising from AED 372 billion in 2012 to AED 399 billion this year.
In terms of foreign partners, India is currently the biggest source of business for the emirate, with trade volumes of at least AED 11 billion. This was followed by China with AED 99 billion and the US (AED 65 billion).
Dubai's ruler Sheikh Hamdan Bin Mohammad Bin Rashid Al Maktoum said: 'Trade is one of the key pillars in the overall structure of our local economy and a main driver for its growth. We look at the rising curve in trade volumes as an indicator of the success of our developmental strategies.'
The city is well known as a business hotspot, being a key area both globally and in the Middle East. Dubai's Department for Economic Development recently revised its Business Confidence Index up by 18.9 points in Q3 to 141.6.
Likewise, this expansion will continue to add to the emirate's appeal, as industry heads visit for business purposes and companies look to move into the city.
Mr Al Maktoum believes this upturn will only continue following the success in the sheikhdom' bid to host Expo 2020. Such a global event will likely drive growth as the date gets closer and many public developments, such as transport, have already started to cater for this anticipated boom.
He said: 'Dubai's highly reliable and efficient infrastructure and quality logistic services will be strong assets to facilitate and support the expected trade growth across the region.'