Football star chooses to stay in UAE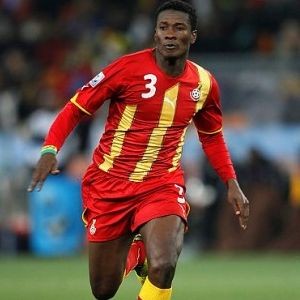 The UAE is a growing force in the football world and is attempting to grow the quality and prestige of its Arabian Gulf League by attracting recognisable names from the sport to come and play in the country.
These efforts have received a serious boost this week, as one of the star players in the championship has decided to stay in the UAE despite receiving a more lucrative offer from abroad.
Asamoah Gyan, who currently turns out for Al Ain FC, told the National he turned down the chance to move to Turkish champions Galatasaray earlier this summer.
The Ghanaian striker, who has scored 53 goals in just 40 matches since moving to the UAE and twice won the Arabian Gulf League Golden Boot prize, said he was offered a contract worth €150,000 (£128,000) per week by the Turkish club, which is a vast improvement on the €3 million annual salary he currently earns.
Indeed, had Gyan agreed the move he would have replaced Didier Drogba as Galatasaray's highest-earning player.
However, the 27-year-old, who was voted BBC Africa Player of the Year in 2010, turned down the opportunity and opted to stay with Al Ain, an act which goes some way to disproving the notion he came to the UAE simply for financial gain.
'As a footballer, things happen if you do well, definitely there'll be teams attracted to you,' Gyan stated.
'What I have to say is my opportunity to come here [Galatasary] didn't happen and so I have to just continue with my career. I'm happy with what I'm doing now and I feel stable at Al Ain.'
That a player of Gyan's calibre has decided to remain in the UAE and turn down a lucrative offer from a household European club is a massive boost for the country and is evidence of the growing prestige of the Arabian Gulf League.
The Ghanaian is not the only big name player in the championship however, as former Barcelona, Inter Milan and Chelsea star Ricardo Quaresma currently represents Dubai-based Al Ahli Club.