Follow in Mo's footsteps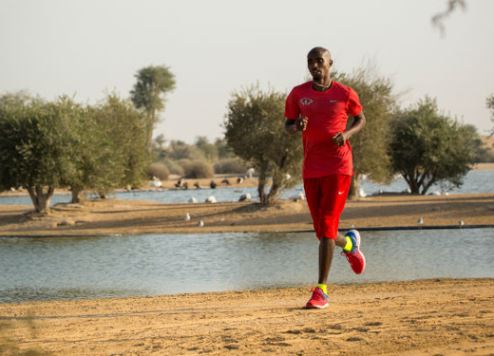 Stay on track during your next trip to Dubai and follow the running route Olympian Mo Farah took through the emirate to promote its top attractions
In February this year, Olympian Mo Farah teamed up with Dubai Tourism to film a 360-degree virtual running tour of the city.
The British long-distance runner stepped up as Dubai's latest tour guide, pounding the emirate's roads and deserts to showcase its top attractions and landmarks.
Using a 360-degree Nokia OZO camera, Mo's running tour allowed viewers to experience the city and its diverse landscapes via the latest immersive technology.
Mo's run took in vast desert dunes; Dubai icons such as The Dubai Fountain and the Burj Khalifa; the stunning Jumeirah coastline; and the world-famous sail-shaped seven-star hotel, the Burj Al Arab.
"Dubai is a city like nowhere else in the world," says Farah. "I have visited several times and I am always blown away by the architecture, the culture and the experience."
During his last trip to Dubai, Mo and his wife Tania took part in one of the Nike Running Club's training sessions in Zabeel Park, one of the city's best-known recreation areas.
Stay in shape next time you visit Dubai and run your way around the city, taking in Mo's tour highlights and much more.
Pick a park
Dubai might be known for its towering skyscrapers and iconic buildings, but dotted beneath are lush green parklands, many with their own running tracks. Zabeel Park is a favourite, located in the heart of Dubai's financial district, and home to a new landmark, Dubai Frame, which will be completed in Q4 this year. This unusual picture-frame-shaped structure, will be the park's centerpiece at 150 metres tall and 93 metres wide. Visitors can take an elevator up to the top of the frame where they can walk along a glass-floor bridge and enjoy impressive views across the city.
Another established running hotspot is Safa Park, close to the new Dubai Water Canal, which has its own dedicated running track around the circumference. Head further north to Creek Park where you can run alongside the historic Dubai Creek, or for a more challenging workout, check out Mushrif Park, where after tackling several hills, you can swing from the trees or jump on a zip line at the new Aventura Nature Park.
Jumeirah Beach
This is Dubai's original running route featuring its own spongy track that follows the coastline along Jumeirah Beach Road. The highlight is the stretch from Burj Al Arab to Kite Beach, which is a hive of activity. It's lined with beachside cafés and markets while beachgoers laze on the sand or take part in the vibrant watersports scene. The track original ran unbroken for 14km but is now interrupted in parts due to the new Dubai Water Canal project. However, this gives runners a chance to venture inland to discover real Dubai, from its stunning villas to the lively fish markets of Umm Suqeim. The route features signs to help you keep track of how many kilometres you have jogged.
Dubai Water Canal
This is Dubai's latest running destination – a 3.2-kilometre track that follows the manmade canal from Business Bay to Jumeirah, alongside Safa Park. You can also cross the canal via bridges and walkways, with more set to open, taking stock of Dubai's impressive skyline as you weave your way around. This is the track to take for breath-taking city views.
Dubai Marina
A popular route with locals, the 4.5-kilometre circular track around Dubai Marina will give you a glimpse of beautiful yachts and gleaming skyscrapers. If you need to stop for a breather, there are plenty of cafés and restaurants from which to choose. After pounding the pavements, why not jog over to The Walk at JBR where you can cool off in the Arabian Gulf or browse the boutiques.
The Boardwalk
This wooden-slatted walkway runs along the crescent of the Palm Jumeirah, the manmade offshore island built in the shape of a Palm tree. Breathe in the sea air, hear the waves crash and admire the luxury resorts and villas that call this island home. You won't miss the gigantic coral-coloured Atlantis, The Palm – a marine-themed mega resort that includes a water park and under-water suites. The 11-kilometre boardwalk is also lined with food trucks serving a wide selection of drinks, snacks and treats, from juices and wraps to fish and chips. If you prefer to cycle this awe-inspiring route, bikes can be hired by the hour.