Five reasons people are visiting Dubai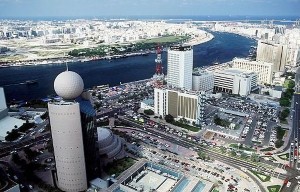 For Dubai's booming hotel sector, 2014 has proved a record-breaking year. Between January and June alone, the city welcomed almost six million short-term visitors - the highest number it's ever hosted over a single six-month period. What's more, recent research from STR Global found Dubai's hotels to be some of the most profitable on the planet, with just Paris and Hong Kong offering greater average operating income per room in 2013.
So, why are so many people visiting Dubai these days? While expats are drawn to the emirate's quality of life, employment opportunities and favourable tax regime, these short-term visitors come for different reasons. Here are five examples.
Business
Dubai is the epicentre of the Islamic business world, so one of the most compelling explanations for the city's high hotel occupancy rate is that it's an important destination for individuals on work-related trips. Whether they're attending conferences, meetings or exhibitions, professionals from around the Gulf - and indeed, the globe - are often to be found passing through the emirate.
Some of Dubai's most important industries include Islamic finance, halal and digital infrastructure, most of which are growing at an astounding rate. In 2013, for example, $9 billion (£5.5 billion) worth of sukuk were traded in the city; today, the figure is $21 billion.
Transport
Dubai is a key world transport hub, so millions of people pass through the emirate as they travel to other destinations. What's more, their number is constantly growing.
One only has to look at the latest data from Dubai International for evidence of this: the airport saw a 9.9 per cent year-on-year spike in traffic in September, as well as an increase of 6.2 per cent - equivalent to an extra three million people - for the entire first nine months of 2014. For a hub that was ranked the world's second busiest airport by international passenger traffic in 2013, this is impressive progress.
Shopping
Make no mistake, Dubai is a shopper's paradise. Just this year, Tripadvisor called it the world's number one shopping destination - a reputation that's sure to be cemented as the emirate adds more and more retail outlets to its streets and leisure complexes.
Then there's the Mall of the World, the construction of which Dubai officials announced this summer. Occupying over eight million sq ft of land, this development - which in addition to 300 stores will house a family entertainment centre, cinema and two food courts - is set to be the world's biggest shopping mall once completed.
Tourism
When it comes to tourism, Dubai is currently working towards an ambitious target: it intends to double its annual number of visitors from ten million in 2012 to 20 million a decade later, just after it hosts the long-awaited World Expo 2020.
From the evidence that's emerged to date, there should be little doubt that the city is capable of meeting - if not exceeding - this target. Dubai Parks & Resorts is building three new theme parks, for example, which should be a genuine boon in bolstering the emirate's attractiveness to people from all walks of life.
Sport
Finally, Dubai is rapidly making a name for itself as one of the world's most important sporting cities. The emirate has hosted high-profile events in sports such as golf, cricket, football and hockey, and officials have even stated their intentions to make a bid for the 2024 Olympics - unquestionably a testament to Dubai's ever-growing enthusiasm for athletics.
As such, sport represents one of the top reasons people visit the city today - few places offer so many opportunities to see professionals of all stripes at the top of their respective games.
Posted by Bob Brunskill