First tram coaches arrive this week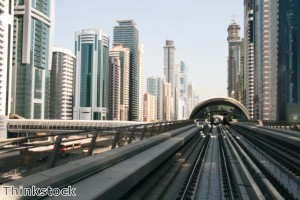 The first of Dubai's new tram coaches are expected to arrive during this week.
On November 21st, the first trains left France, which will provide Dubai with 11 trams when they arrive, with 14 more expected in a second phase.
These will form part of a new scheme to provide better links across the city. The rollout will be overseen by the Roads and Transport Authority (RTA), with testing being carried out until its official start date in November next year.
RTA's chairman and executive director Mattar Al Tayer said: 'At the end of this month, the RTA will run the technical run of the tram in the depot's rails, and the test run will then be carried out in distance of about two km outside the depot.'
Currently, this is set to be the first tram of its type to use a ground-based power supply, in contrast to traditional methods of overhead cabling. This has many benefits, not least of all being more aesthetically pleasing.
Once complete, the first phase will consist of 11 passenger stations and 11 trams, with 27,000 people expected to use the service each day.
After the second stage, there will be 17 stations and a total of 25 services operating across these, helping to carry 66,000 riders across the sheikhdom each day by 2020.
The RTA will initially focus on providing the service to important or busy areas, as well as those high in residential density. This includes Dubai Marina, a popular tourism location and, as such, the development will very much interest those looking to invest in a hotel with modern, well connected infrastructure links.
To begin with, the tramway will extend alongside Al Sufouh Road for around 14.6 km, in addition to a 10.6 km stretch of track between the marina and the depot, located near Dubai Police Academy.
Each complete train will be 44 m long and able to transport roughly 300 individuals. There will be a designated first class area, as well as a cabin exclusively for women and children.