Fast-track Dubai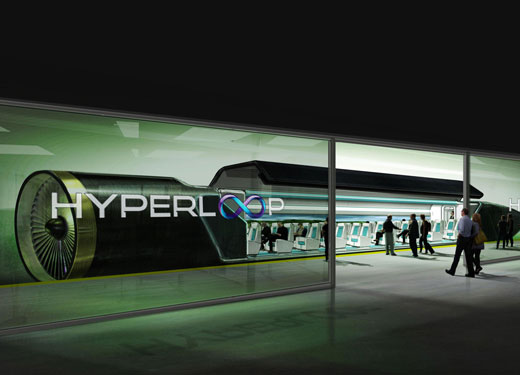 Dubai is determined to become one of the world's first cities to build a viable hyperloop transportation service, which would slash travel times across the city to just minutes
Ever imagined speeding across Dubai in a matter of minutes and on to Abu Dhabi in less than a quarter of an hour safely and without the threat of incurring a traffic fine? A revolutionary transportation system might just provide this possibility in the near future.
Backed by Dubai's DP World and based on a proposal by inventor and Tesla/Space X founder Elon Musk, the ultra-futuristic Virgin Hyperloop One promises to transport around 3,400 people an hour, 128,000 people a day and 24 million people a year across Dubai and on to a network of cities across the GCC.
The transportation system utilises a suspended vacuum tube containing passenger and cargo pods that are propelled from one end to the other using a series of magnets at speeds up to 1,200 km/h.
At these speeds, the transportation system would dramatically cut travel times between Dubai and the UAE capital to just 12 minutes, from around 75 minutes by car today. Further expansion of the service to destinations across the GCC is planned, which would dramatically slash travel times from Dubai to Riyadh, Saudi Arabia, for example, to just 40 minutes.
A feasibility study conducted by Dubai's Roads and Transport Authority proposes a phase one development of the service which would cover a distance of 20 kilometres alongside Sheikh Mohammed Bin Zayed highway and serve high-growth areas such as Dubai South – the location of Expo 2020 – and Dubai Investment Park, linking to Downtown Dubai. 
Dubai's iconic Burj Khalifa has been earmarked as the location for the service's first terminal, while the hyperloop pipeline itself would utilise a series of underground and over-ground links.
Speaking at a special preview of the service in Dubai in February, HE Mattar Al Tayer, director general, and chairman of the Board of Executive Directors of Dubai's Roads and Transport Authority (RTA), said the RTA and its partners had made "considerable progress in the technical, engineering and economic feasibility study of the project".
"Progress made also includes identifying the routes for operating the hyperloop along with its initial design model," he explained.
According to Al Tayer, the hyperloop passenger cabin will feature "deluxe interiors, cutting-edge broadcasting and display of information and entertainment materials as well as leather seats. The hyperloop technology uses an electromagnetic propulsion system to accelerate the movement of goods and services through a vacuum tube. Accordingly, the hyperloop can travel between Dubai and Abu Dhabi in 12 minutes, and lift about 10,000 passengers per hour in both directions."
Commenting on his company's partnership with the RTA, Rob Lloyd, CEO of Virgin Hyperloop One, described the UAE and RTA as "early supporters of our hyperloop technology, so it is particularly exciting to be unveiling the Dubai hyperloop pod with the RTA as part of UAE Innovation Month".
"Our focus in 2018 would be continuing the close collaboration with RTA to progress to the next phase of the project," he added.
Hyperloop One will also be one of the star attractions at this month's Arabian Travel Market (ATM), the region's largest annual travel and tourism industry conference and exhibition. Commenting on the development of the project in Dubai and its showcase at ATM 2018, Simon Press, the event's senior exhibition director, said: "As we move towards an innovative and technologically-driven future, it is important to explore the impact ultra-modern travel infrastructure will have on the tourism industry in the UAE and wider GCC region. ATM's opening session 'Future Travel Experiences' will explore this evolution as technological advances bring new and improved modes of transport to the market.
"Providing a hyperloop connection that allows both UAE residents and tourists to travel between Dubai and Abu Dhabi in just 12 minutes is just the beginning. In the future, other emirates and indeed other GCC countries could also be linked, with journeys between Dubai and Fujairah as low as 10 minutes and Dubai to Riyadh in 40 minutes," he added.