Fast to feast: Ramadan meals to remember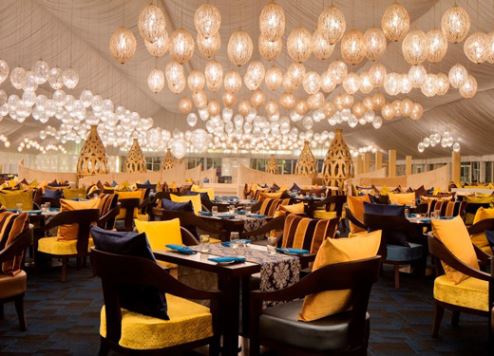 A round-up of the best places to break your fast and experience time-honoured Islamic traditions during the Holy Month
Ramadan is the most important time of year for Muslims around the world, marking when the first verses of the Holy Quran were revealed to the Prophet Muhammad (PBUH).
In 2016, the Holy Month as it is also known, runs from 6 June until 5 July in Dubai and the wider UAE, and not only ushers great spiritual and social benefits for Muslims, but offers residents and visitors the chance to discover one of the Islamic calendar's most important festivals.
Many of Dubai's Muslim population will be fasting between sunset and sunrise but this is not expected of non-Muslims, and there are plenty of restaurants open during the day.
However, when the sun goes down, visitors can head to one of the stunning Ramadan tents where the city's residents may be breaing their fast with an Iftar (sunset feast) or Suhoor (early morning feast).
In the true spirit of Ramadan, everyone is encouraged to join in.
Here are some of the most majestic Iftar experiences:
Four Seasons Resort Dubai at Jumeirah Beach
The resort's impressive Suq restaurant features a traditional shisha tent embodying the spirit of Ramadan. Serving Iftar and Suhoor daily, it's perfect for celebrating with family and loved ones.
Iftar 6pm-9pm, AED225 per person. Suhoor 10pm-2am, AED190 per person. Children 0-5 years dine free; 5-12 year olds receive a 50 percent discount.
The Address Dubai Marina
Guests can savour a generous Iftar in the Constellation Ballroom framed by breathtaking views of Dubai Marina. Traditional in theme and lavish in diversity, the meal includes an extensive selection of Arabic delicacies and international dishes.
Iftar from sunset onwards, AED210 per person.
Atlantis, The Palm
Guests can enjoy a full Ramadan experience in the Asateer tent. With a 1,000-person capacity, this impressive beachfront destination offers Iftar and Suhoor complete with traditional oud players and shisha.
Iftar sunset-8.30pm, AED205 per person including water and Ramadan juices; Suhoor 9.30pm-2.30am, with a minimum spend of AED185 per person (excluding shisha). 
Fairmont Dubai
Cascades restaurant serves a stunning Iftar buffet showcasing traditional delicacies from eight different regions, including the Arabian Peninsula: Egypt; the former Ottoman Empire; the Levant; Southeast Asia; Morocco; Persia; and the former Mughal Empire.
Iftar sunset-9.30pm, AED170 per person. Shisha is available in the Cigar Lounge.
Madinat Jumeirah
This popular resort offers numerous Iftar locations, including Al Majilis, a spectacular venue complete with VIP areas for private dining and groups. Located at the Madinat Arena, it has a seating capacity of 1,000 guests.
Iftar sunset-8.30pm, AED210 per person; Suhoor 9.30pm-3am, special prices for corporate bookings.
Anantara The Palm
This luxurious, Thai-inspired hotel offers Iftar in its Crescendo restaurant, where you can watch the sun set over the infinity pool and then break your fast with Arabic and international dishes, with lamb ouzi taking centre stage. A kanoun player completes the tranquil scene.
Sunset-10.30pm, AED185 and AED90 for children aged 6-11.
NEED TO KNOW
Ramadan – what to expect
The Holy Month of Ramadan, or the Month of Fasting, is one of five Acts of Worship in Islam.
It is also a time for spiritual growth through self-control, discipline and patience.
To outsiders it raises questions that Abdallah bin Eisa Al Serkal, director of the Sheikh Mohammed Centre for Cultural Understanding (SMCCU), is pleased to answer.
If I'm not a Muslim, do I have to fast if I visit Dubai during Ramadan?
"Those who are not required to fast during Ramadan are non-Muslims, young children, the sick or those with mental illnesses, travellers, the elderly and women who are menstruating, pregnant, breast-feeding, or recently had a baby. Fasting is to help improve oneself, not to burden or cause hardship."
Is everything closed during the day?
"Dubai does not close down during Ramadan – it remains one of the most exciting cities in the world, offering remarkable experiences all year round. In fact, thousands of visitors come during Ramadan and it's an ideal time to learn more about Emirati culture. Business hours are shorter, the shops open later, and there's a greater emphasis on spending time with loved ones. Nightlife is more subdued during Ramadan, although this is the month when food is like at no other time of the year, served all over the city at the time of Iftar and during the early hours of the morning at Suhoor – these are very festive, to say the least."
Is it best to avoid visiting Dubai during Ramadan?
Absolutely not! Within many of the hotels and resorts, tourists may notice little difference to when they visit during the rest of the year – although some restaurants may be closed during the day or maybe screened off out of respect to those who are fasting. Virtually all the usual resort and tourist facilities and activities go on without a change. Life gets a slight tweak, but overall, continues as usual."