Famous Palmyra arch to be re-created in Dubai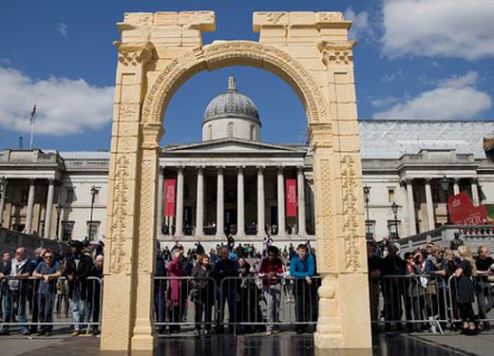 The 1,800-year-old Arch of Triumph in Palmyra, Syria, which was destroyed by Daesh militants last year, is being recreated in Dubai.
The arch was recently erected in Trafalgar Square in what London Mayor Boris Johnson called an act of defiance.
The 5.5-metre (20ft) model, two-thirds the size of the original, was made using 3D digital scanning technology and Italian marble.
It was created by the Institute for Digital Archaeology (IDA), a joint venture between Harvard University, the University of Oxford and Dubai's Museum of the Future.
"Palmyra was the perfect example in its day of east/west cooperation and the arch symbolises that as much today as it did back then," said IDA director Roger Michel.
"No one should have the power to delete such monuments from our historical record."
Unveiling the monument, Mayor Johnson said: "This is an arch of triumph and in many ways a triumph of technology and determination.
"We're here in a spirit of defiance, defiance of the barbarians who destroyed the original ... as they have destroyed so many other relics in Syria and the Middle East."
The United Nations cultural organisation UNESCO calls Palmyra one of the most important cultural centres of the ancient world.
"From the 1st to the 2nd century, the art and architecture of Palmyra, standing at the crossroads of several civilisations, married Greco-Roman techniques with local traditions and Persian influences," it explains on its website.
The replica arch will stand in London for three days before going to Dubai, New York and ultimately, back to Palmyra itself, which was recaptured at the end of March after having been under the control of Daesh for some 10 months.