Extravagant Dubai International Airport takes title of world's busiest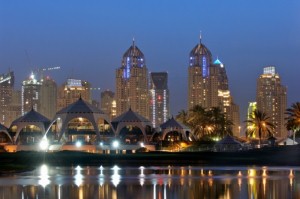 As an increasing number of tourists flock to the area and more and more business is done in the region, Dubai International Airport has won the title of the world's busiest global hub, overtaking London's Heathrow in the process.
The airport won the title earlier this year, after it was revealed 18.36 million passengers either caught a plane or arrived into the site during the first three months of 2014, in contrast to the 16.1 million who passed through Heathrow's doors.
Over the past 12 months, 67.3 million passengers travelled through the Dubai airport, highlighting the fact the location has become a thriving hub for both business and tourism.
Having started life as a humble refuelling stop in a relatively remote corner of the world, Dubai International has expanded somewhat amazingly over recent years. Only a decade ago, it ranked way down the list at number 45 in the world.
However, during March alone, 6.25 million people either arrived or departed the country via plane from Dubai International Airport, with the majority of this traffic coming from the expanding Emirates and flydubai airlines. This was an increase of 7.5 per cent from the 5.8 million recorded during March 2013.
The significant amount of travellers passing through is only expected to rise even further in the future, with chief executive officer of Dubai Airports Paul Griffiths commenting: '2013 was a year of mapping out and preparing what appears to be a bright and busy future for Dubai Airports.
'Our traffic projections show that we will have more than 100 million passengers passing through our airports by 2020.'
Dubai International is not just the busiest airport in the world, it is also one of the most extravagant, with high-end designer boutiques, fake palm trees indoors, a million-dollar raffle on offer for passengers to enter and cascading water features.
It is clear that in a few short years, Dubai International Airport has certainly come a long way.