Extension of Dubai Metro 'could boost property prices'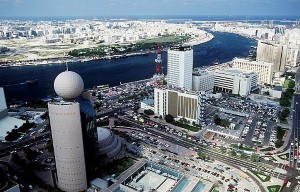 In the past, property prices in areas in close proximity to the Dubai Metro have risen and experts now believe they could be boosted even further once the network is extended ready for the World Expo 2020.
The expansion plans include doubling the Green Line, extending the Red Line so it reaches the Expo site and building 21 more stations, meaning there would be a total of 70 in operation.
There is compelling evidence to support claims the Metro has already boosted property prices, as according to the Roads and Transport Authority Strategic Planning Department, from when the service opened in 2009 to 2012 real estate values jumped 34 per cent.
Jonathan Fothergill, head of Valuation UAE, at Cluttons Middle East, told the Arabian Gazette that connectivity always proves to be a challenge in a rapidly expanding cities like Dubai. However, the Metro service has proved to be instrumental in joining communities.
He added: "When it was first inaugurated in September 2009, it was unclear how [the Metro] would be received by Dubai's residents, given the somewhat entrenched car culture, but we have embraced it, and a public transport culture is taking root. This has been evidenced by the gradual upward creep in the value of properties within close proximity to Metro stations."
Those working within the property industry believe that already real estate in close proximity to the Metro will benefit from price rises, as well as those in the areas of the planned extensions. According to the Emirates 24/7 website, rents for a two-bed property in Jumeirah Lakes Towers, near existing stations, were available for Dh130,000 (£21,005) per year, which is 26 per cent higher compared to buildings situated further away.
By the time the World Expo rolls around in 2020, the Dubai Metro will be 110km, with the Green Line being extended by 20.6km and the Red Line 3.5 km. A further 15km will be added from the Jebel Ali to the event site near Al Maktoum International Airport.