Expo 2020 Dubai: Focus on sustainability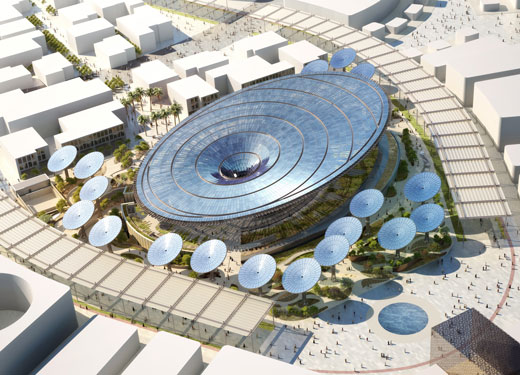 In the lead up to Expo 2020 Dubai's official opening in October, each month we will turn the spotlight on the key themes and goals of 'the World's Greatest Show'.  Here, we look at the event's ground-breaking efforts to promote sustainability
Reflecting Dubai's ambitious approach to promoting sustainable development, Expo 2020 Dubai is set to be the 'cleanest and greenest' world exposition ever staged.
From clean energy solutions powering the expo site itself to comprehensive recycling and reusage programmes, Expo 2020 Dubai will set a new benchmark for large-scale international events.
Event organiser Expo 2020 Bureau has initiated more than 40 sustainability KPIs across 11 major development categories.
All major buildings are LEED Gold-certified, ensuring they meet the highest sustainable construction standards, while 85% of all waste generated during the construction of the site and during the event itself will be recycled.
At the conclusion of the six-month-long event, the expo site will be transformed into District 2020 – a dedicated mixed-use business hub that will promote and foster innovation. More than 80% of Expo 2020's built environment will be repurposed in the transition to District 2020.
Major Expo 2020 digital services partners including Siemens and Accenture have confirmed they will base their regional headquarters at the site, while Dubai's new landmark exhibition and conference centre will also be located there.
"District 2020 will continue to carry forward Expo 2020's mission of connecting people – offering a new urban experience," says Marjan Faraidooni, senior vice president of Legacy Impact and Development at Expo 2020 Dubai.
Explaining the rationale behind the development, HE Reem Al Hashimi, UAE Minister of State for International Cooperation and director general of Dubai Expo 2020 Bureau, says: "Back in 2013 when we won the bid to host this great event, we set ourselves two clear objectives in line with our leaders' vision: to stage a World Expo that would amaze the world and build a lasting legacy with a global destination that offers a new alternative for urban living.
"His Highness Sheikh Mohammed Bin Rashid Al Maktoum (Vice-President and Prime Minister of the UAE and the Ruler of Dubai) instructed us to build a site for a permanent legacy and therefore we had to think of ways to capitalise on what was being built for Expo as well as for post-Expo.
"We have created District 2020 to achieve that goal. It has been a key part of our planning from the very start, not just for our Legacy team but the entire Expo organisation."
Many of the expo pavilions will also remain as permanent structures housing institutes for learning and research and development.
Expo 2020's Sustainability Pavilion, for example, will be redeveloped as a Children and Science Centre, while the iconic Al Wasl Plaza, which is the expo's centrepiece venue, will host live events and other activities.
District 2020 will be "at the cutting edge of modern working and living", says Faraidooni. "It will [combine] places to work, rest and explore to create an ecosystem that stimulates connections, inspires creation and drives innovation, creating value for all those who come here."
EXPO 2020 DUBAI SUSTAINABILITY SAMPLE KPIs
* 95% of condensate to be recovered from buildings for irrigation purposes
* 90% of materials used in permanent construction to be retained for Legacy
* 85% of waste to be diverted from landfills for recycling
* 75% of materials in temporary construction to be redeployed, taken back or recycled
* 75% of sustainability features with educational awareness, collateral or activities
* 50% of landscape plants to be native/adaptive species
* Achieve ISO 20121 Sustainable Event Management certification
* Publish sustainability reports based on internationally recognised guidelines
* Achieve CEEQUAL Excellent Certification for Expo infrastructure projects