Expo 2020 boosts Dubai's SME sector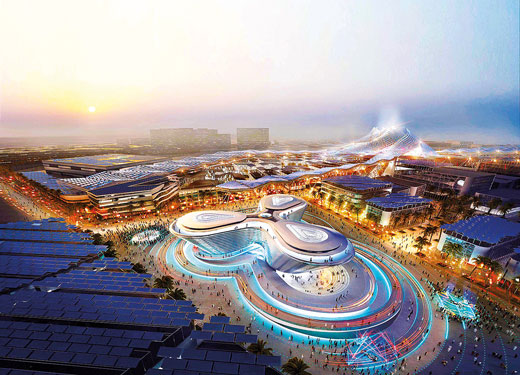 The first-ever World Expo to be staged in the MENA region is providing a massive boost to SMEs based in the UAE and abroad
In positive news for the ongoing growth of Dubai's small- to medium enterprise (SME) sector, more than half of all contracts relating to Expo 2020 have been awarded to SMEs to date, the event's official organiser has revealed.
"[To date] we have [more than] 26,000 registered suppliers from 150 countries wanting to do business with Expo. Seventy-five percent of these companies are SMEs," commented Tina Ghanem, the director of Expo 2020's Online Marketplace (OMP), during a presentation at the Arabian Business Startup Academy in Dubai.
In a bid to promote Dubai's burgeoning SME sector and support innovation and entrepreneurship, Expo organisers had previously committed to awarding 20 percent of the event's total budget to SMEs.
A key part of its strategy was the launch in November of OMP, which enables SMEs from around the world to pitch for business deals relating to Expo 2020.
Ghanem told delegates at the Arabian Business event that 56 percent of all Expo contracts had been awarded to SMEs to date, or more than half of the 5,600 deals signed in total for the event.
Dubai's SME sector is booming, with recent data from the Dubai Department of Economic Development (DED) revealing more than 2,200 new trade licences were issued to start-up companies in February alone. This represented a 37% rise in registrations compared to February 2018.
Meanwhile, Dubai SME, the government dedicated to fostering growth in the city's small- to medium-business sector, provided mentoring and other support to more than 4,200 Emirati entrepreneurs in 2018, as well as a package of incentives valued at more than $27 million. Furthermore, it revealed that it had directly supported the establishment of 1,175 Emirati enterprises last year.
In total, Dubai SME provided direct support to 32 percent more entrepreneurs in 2018 compared to 2017, highlighting the massive growth in Dubai's SME sector over the past 12 months.
The number of entrepreneurs receiving training and development support provided by the organisation rose 163% year-on-year in 2018 to reach a total of 5,767.
Commenting on the results, Abdul Baset Al Janahi, CEO of Dubai SME said: "Since its inception in 2002 Dubai SME has pursued a clear strategy towards translating the directives of His Highness Sheikh Mohammed bin Rashid Al Maktoum, UAE Vice President and Prime Minister and Ruler of Dubai, to enable the citizen to be part of the economic development process and a true patron of the State. True to this spirit we strive to support entrepreneurship and develop the SME sector in Dubai, which is the backbone of the emirate's economy."
Expo 2020 will be the largest-ever international event staged in Dubai to date. The city's authorities have pumped billions of dollars of investment into the staging of the event, which will run from October 2020 to April 2021.
More than 25 million visitors are forecast to attend the six-month expo, while Dubai is forecast to welcome 20 million international visitors alone in 2020.
Dubai welcomed 15.92 million overnight visitors in 2018, according to the latest statistics published by Dubai Tourism, up from 15.79 million a year prior.
India retained its ranking as Dubai's top visitor source market, with two million arrivals in 2018. However, a recent report published by Colliers International, predicts more than 3 million Indians will visit the UAE in 2023, representing a compound average growth rate (CAGR) of seven percent. The report predicts the staging of Expo 2020 will drive this number, alongside government investments designed to make Dubai the world's most visited city by 2025.
Arrivals from Saudi Arabia and the United Kingdom, Dubai's second and third-biggest tourism source markets respectively in 2018, will grow at 2% and 1% to reach 1.76 million and 1.28 million respectively over the same period, the report predicted.