Experts predict 'building boom' in Dubai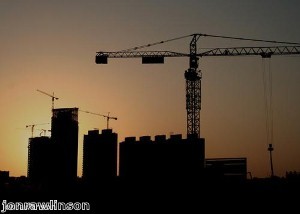 Construction is expected to increase in Dubai over the upcoming years, according to the Middle East Economic Digest (MEED).
Its tracking service MEED Projects forecasts the contracts awarded within the UAE as a whole this year will be worth around $30 billion (£18 billion). However, it expects the total value of those handed out in 2014 to reach $35 billion, WAM reports.
MEED Projects director Julian Herbert said: 'We expect this number to increase significantly over the next few years as the market takes full advantage of Dubai's successful bid.'
Although the firm's figures apply to the UAE as a whole, Mr Herbert is expecting a number of new construction projects to be announced in Dubai after its successful Expo 2020 bid. This is very much a prevalent factor of late and will almost certainly be driving a number of new developments and builds. As such, one can argue the emirate will make up an important part of MEED's predictions.
The sheikhdom is known for many things, with its buildings being a prime example. Its modern skyscrapers such as Burj Khalifa, the tallest building in the world, and many more buildings add to Dubai's skyline.
This increase in construction is something seen across Dubai in both its current and upcoming developments. It has already opened its Al Maktoum passenger terminal at Dubai World Central, which is close to the planned site of Expo 2020.
Director general of the Department of Economic Development of Dubai Sami Al Qamzi also predicts growth and expansion as a result of the event.
Speaking to WAM, Mr Al Qamzi said: 'As for the direct impact, we expect an increase in investment, event-lined infrastructure and other activities in the period leading to and during the expo.'
Among the sectors predicted to benefit are retail, hospitality, transport and logistics. Of course, many of these are related - for instance, one can see the expansion of retail and other businesses as a sign of the increased tourism expected to occur, which will also directly dictate hotel growth.