Exhibition industry boosts Dubai economy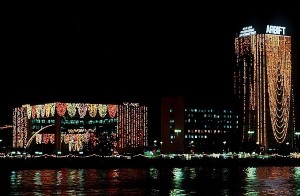 Dubai is renowned as a global hub for exhibitions and the industry is making a positive contribution to the emirate's economy.
This is according to Michale Dehn, the group exhibitions director of the world's largest trade fair organiser Messe Frankfurt.
Speaking to Gulf News, he claimed the sector has contributed to Dubai's economic growth by five per cent and has the potential to expand even further.
The city is a popular location for major exhibitions and earlier this month is was revealed the renowned travel event The International Medical Travel Conference and Exhibition (IMTEC 2014) will leave its current home in Monaco and move to the emirate.
It will be hosted at the Dubai International Convention Centre on March 5th and 6th next year and the organisers behind IMTEC 2014 said they have made the move due to Dubai being a 'tourism, trade and logistics hub'.
Mr Dehn claimed the exhibition industry helps to increase the diversity of the Dubai economy.
'The direct expense of the participant including, travel, fright operators, hospitality sector, transport sector, retail sector and others, will definitely energise different business sectors,' he told Gulf News.
Messe Frankfurt established a base in Dubai 11 years ago and Mr Dehn said an increasing number of companies have done the same in that period.
'We noticed that a lot of businesses have moved to Dubai market after experiencing the potential here … The power of the location of Dubai market has enabled these businesses to expand their responsibilities in different markets, mostly Africa,' he stated.
That Dubai is seen as such a hub for the exhibition industry is welcome new for the industry and reinforces its position as a global centre for business and learning.
The emirate's reputation may grow even further should it succeed in its bid to host the 2020 World Expo. It is currently locked in a four-way contest to hold the event with Sao Paulo, Brazil, İzmir, Turkey and Yekaterinburg, Russia.