Exciting line-up promised for Dubai Opera launch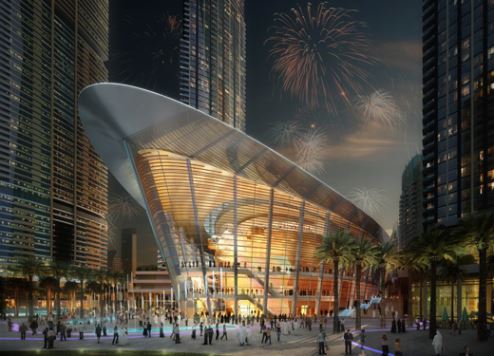 An exciting line-up of world-class performances will mark the grand inauguration of the new Dubai Opera in Downtown Dubai, developer Emaar Properties has revealed.
The city's first purpose-built multi-format performing arts theatre, which overlooks the Burj Khalifa and Dubai Fountain, features an acoustic concert hall and a 2,000-square-metre flat-floor event space.
It will host a diverse programme of cultural and lifestyle events including operas, ballet, classical performances, musicals, Arab and World Music, comedy, film, family entertainment, as well as rock, pop and jazz concerts.
The iconic building will seat up to 2,000 people for a theatrical production and up to 1,000 for a gala dinner, Emaar said in a statement.
"Dubai Opera is our tribute to our city and the vision of His Highness Sheikh Mohammed bin Rashid Al Maktoum, UAE Vice President and Prime Minister and Ruler of Dubai, to establish Dubai as a seat of arts, culture, performing arts and world-class events," said Emaar Properties chairman Mohamed Alabbar.
"An architectural masterpiece, it draws design inspiration from our own heritage, while the focus on bringing exclusive and accomplished performing arts places it on the league of the world's finest theatres."
He added: "Dubai Opera adds a new dimension to cultural entertainment in the city, while adding value to the surrounding hospitality, retail, touristic and residential developments. With this sterling addition to the city, we are supporting our leadership's focus on establishing Dubai as a 'City of Happy, Creative and Empowered People.'"
The construction of Dubai Opera is due for completion this month (March).
Key features include a transparent all-glass foyer, which opens to the waterfront of Burj Lake and serves as a transition between a plaza and theatre.
With a built-up area of more than 35,500 square metres, Dubai Opera is an integral part of The Opera District, a dedicated cultural and lifestyle hub.