Etihad to offer flights from six new destinations in 2015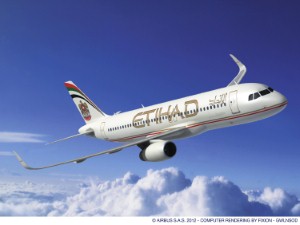 As of next year, Etihad Airways, the UAE's national airline, will launch six new flight routes, meaning improved connections and wider travel choices could attract even more visitors to the emirates during 2015.
During the first six months of next year, the airline will add daily flights from Madrid and Edinburgh, alongside passage to and from the Kolkata. Etihad also plans to add a route from Uganda, which is one of east Africa's most important centres of government and business.
In addition, the airline intends to add four weekly flights from Hong Kong, three from Algiers and a daily direct flight to Brisbane - a service that currently operates via Singapore.
According to the Hurun Report, produced by International Luxury Travel Market (ILTM) Asia and The Chinese Luxury Traveller 2014, Dubai is already one of the top three preferred destinations for wealthy Chinese travellers. The additional flights will only help cement the emirate's position, and perhaps send it further up the rankings.
A separate study from Hotels.com reveals that Chinese tourists spend the most when visiting Dubai, compared to their expenditure when travelling to other countries. The Department of Tourism and Commerce Marketing could take advantage of this and boost its efforts in attracting visitors from the Far East.
Etihad will operate its three-class Boeing 787-9 Dreamliners for the new routes and will allow passengers to choose from First Suite, Business Studio and Economy Smart Seat when purchasing their flights.
From June 2015, the airline will introduce further service upgrades, including a three-class Airbus A330-300 aircraft on daily flights to Singapore and a three-class Boeing 787-9 Dreamliner on daytime flights to Moscow. These changes will mark the debut of first class cabins on both of the existing routes.
James Hogan, president and chief executive of Etihad Airways, commented: "The expansion will also create new opportunities to enhance our codeshare agreements and align operations with key airline partners, such as Virgin Australia, Jet Airways, Air Seychelles, Air Europa and Kenya Airways."
The route expansion will see Etihad's global passenger and cargo network increase to 107 destinations during the first half of 2015. The total comprises of existing routes, such as those launched earlier this year, including flights from Medina, Jaipur, Zurich, Los Angeles and Yerevan.