Etihad set to radically enhance India services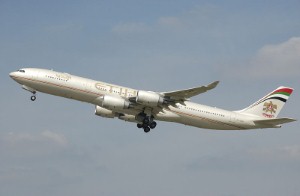 Etihad Airways appears to be on an unstoppable march towards becoming the largest airline in the world.
The company has expanded at a phenomenal rate in the past few years and bosses have announced plans to offer even more services.
UAE tourism chiefs are always launching promotional campaigns that appeal to Indian travellers and with good reason.
The Asian country provides more than its fair share of holidaymakers every year and Etihad is keen to ensure more and more people can travel between the two nations.
From November 1st 2013, the carrier will more than triple the number of seats it offers on services between Abu Dhabi and Indian destinations like Mumbai and New Delhi.
By the end of the year, Etihad will provide double-daily flights to these cities and will also use wide-bodied Airbus A340-600 aircraft on certain routes.
Plans are in place to increase the number of passengers on the daily flight between Abu Dhabi and Chennai too.
President and chief executive officer of Etihad Airways James Hogan said the recent signing of a new air services agreement between India and the UAE has enabled the firm to significantly expand its services.
'The big winners will be our passengers and freight customers and the economies of India and Abu Dhabi,' he commented.
'India is one of the world's fastest-growing destinations, and a key market in the growth strategy of Etihad Airways.'
Pakistan is also an important market for the UAE's tourism authorities and Etihad has wasted no time in increasing the capacity of its flights to Islamabad.
The company plans to offer 11 services a week - up from nine - giving travellers far more flexibility. There will also be new winter timings for journeys between Abu Dhabi, Peshawar and Lahore.
Kevin Knight, Etihad Airways' chief strategy and planning officer, said: 'The addition of the new flights is further proof of the strong commercial and cultural ties between Pakistan and the UAE.'
News of these new flights will be music to the ears of Dubai's hotel owners, who are already benefiting from the growing number of people visiting the emirate from India and Pakistan.