Etihad selling tickets for A380 and Boeing 787 launches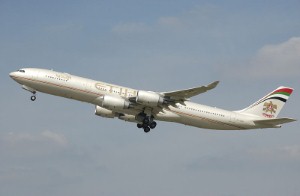 On Wednesday (August 27th), Etihad Airways confirmed it has started to sell tickets for flights for its new Airbus A380 and Boeing 787-9 Dreamliner - both of which are due to launch in December.
During its first year operating under the Etihad umbrella, the Airbus A380 will fly three times daily, carry passengers between Abu Dhabi, as well as performing selected flights to Sydney, which has recently been confirmed as the second destination to be requested by the super-jumbo.
In a statement, Etihad said the Boeing 787-9 will be incorporated into six of the airline's established routes, flying to and from Düsseldorf, Doha, Washington DC, Mumbai, Brisbane and Moscow.
Etihad intends to add an extra element of luxury it its flights, as it will launch 'The Residence by Etihad' - a concept exclusive to the Airbus A380 that will feature a three-room cabin in the sky.
James Hogan, president and chief executive of Etihad Airways, said: "Our initial Airbus A380 and Boeing 787-9 Dreamliner flights have been on sale for almost four months and demand has exceeded our expectations, showing that the public share our passion for comfort, service, hospitality and style."
The airline has ordered ten Airbus A380s in total and the first will be ready to fly from the end of 2014. The first flights will operate between Abu Dhabi and London Heathrow from December 27th, which will make festive flying less stressful for anyone willing to pay $43,000 (£25,900) for a private suite.
Tickets can be purchased for the Airbus A380 service between Abu Dhabi and Sydney from June 1st 2015.
In addition to the Airbus A380s, Etihad has also ordered 71 Boeing 787s - 41 B787-9s and 30 B787-10s - which will make the firm the largest operator of this specific type of aircraft.
Passengers travelling between Abu Dhabi and Düsseldorf or Doha will be able to book flights from the end of this year, while travellers from Washington DC and Mumbai will have to wait until June next year.