Etihad reveals strongest ever first quarter results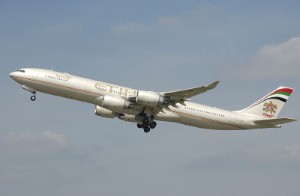 Etihad Airways has revealed its strongest ever passenger and cargo volumes for a first quarter.
The national carrier of the UAE served a total of 3.2 million holidaymakers between January and March 2014, a rise of 14 per cent against the 2.8 million tourists achieved the year before. This level of growth is more than double a recent estimate by the International Air Transport Association (IATA), which stated air travel would increase by just 5.8 per cent over the next 12 months.
Its cargo division also outperformed the global market by carrying 127,821 tonnes of freight in the first quarter, a year-on-year surge of 26 per cent. Again, the airline managed to exceed IATA's prediction that the industry would grow by four per cent in 2014. Revenue levels also jumped by 26 per cent to reach $243 million (£144 million), meaning the business is on track to becoming a million-dollar firm this year.
The airline's results were boosted by the fast-paced growth in its international route network, which grew to 95 by the end of the first three months of 2014. This was an increase of six compared to the same period in 2013.
Highlights of Q1 2014 included the start of a daily flight to Madinah, while the airline started operating additional flights to key locations such as New York, Munich, Chengdu and Colombo. The carrier intends to add eight more destinations to its portfolio by the end of this year, bringing the total number of destinations it serves to 103.
James Hogan, president and chief executive officer of Etihad, stated: 'Our strong performance highlights the continued success of Etihad Airways' strategic master plan, which focuses on the three fundamental pillars of organic network growth, codeshare partnerships and minority equity investments in other airlines around the world.'
Meanwhile, the airline announced it won a total of four accolades during the first quarter of 2014, including the Airline Market Leadership Award at Air Transport World magazine's 40th Annual Airline Industry Achievement Awards.