Etihad reveals 48% jump in profits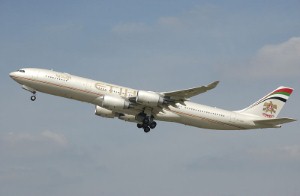 Etihad Airways has revealed a 48 per cent increase in profit over the last year.
The UAE's national airline reported results of $62 million (£37 million) during 2013, while revenues jumped to $6.1 billion. This represented a rise of 27 per cent against the year before.
Analysts claimed the secret to Etihad's success was its successful partnership programme, which saw the company build codeshare agreements and undertake investments in strategically important airlines. This has allowed the firm to develop itself as the carrier with the region's most diverse route network, comprising a total of almost 400 international destinations.
The air cargo side of operations also contributed greatly to the company's success, reporting an increase in revenue of $928 million. This constituted a jump of 30 per cent, on volumes up from 367,837 to 486,753 tonnes.
Etihad boosted its workforce last year, taking on 2,879 new staff members. This brought the total number of people working for the airline to 13,535, an increase of 27 per cent compared to 2012. At the end of 2013, the group employed 17,603 people from 142 different nationalities. 
Furthermore, the firm's growth was also boosted by an increase in the number of clients subscribing to its guest loyalty programme. Membership rose to 2.3 million, an increase of 21 per cent against 2012. This meant, on average, 1,100 people joined the service every day.
Additionally, Etihad launched its Flying Nanny service, a team of over 750 cabin crew staff who have been trained to help customers who have young families. It has also continued to invest heavily in new airport lounges and has signalled intentions to begin a programme to introduce WiFi on board its fleet of aircraft. 
James Hogan, president and chief executive officer at the airline, commented: "This is another important step forward in our journey as a growing, commercially successful business.  We have hit every financial target for each of the last seven years, bringing sustainable profitability to a business which has grown from just $300 million in revenues in 2005 to more than $6 billion today."
The company expects 2014 to be another bumper year, as it plans to invest in 18 new aeroplanes. These include its first-ever Boeing 787-9 Dreamliner and Airbus A380 super jumbo, which are scheduled to be launched during the last quarter of the year.