Etihad reveals 2016 Dreamliner strategy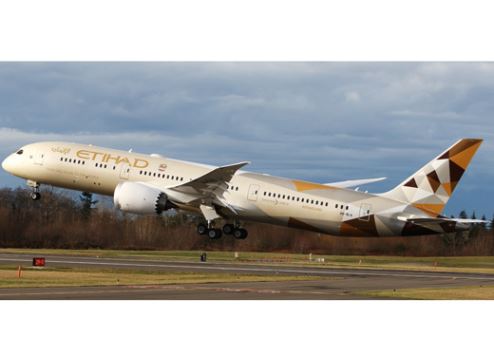 Etihad Airways, a strategic partner of The First Group, has unveiled its 2016 Dreamliner strategy.
The Abu Dhabi-based carrier, which is the national airline of the United Arab Emirates, will fly its new Boeing 787 aircraft to five more destinations next year.
With a phased delivery of five new 787 Dreamliners over a seven-month period, beginning May 2016, the 299-seat aircraft will be deployed on existing routes to Dusseldorf, Perth, Shanghai, Istanbul and Johannesburg.
They will replace aircraft currently serving these routes, the airline has revealed.
"Since introducing our first 787 into commercial service in February, we have enjoyed excellent feedback from guests of our ground-breaking cabin interiors that have set a benchmark for high service levels in the region and across the world," said Etihad Airways president and chief executive officer James Hogan.
"Beginning May next year, our newly delivered Dreamliners will replace existing aircraft on some of our most popular routes, giving guests an opportunity to fly on our next-generation aircraft."
Etihad Airways currently operates five 787s that serve four routes - Brisbane, Washington, Singapore and Zurich - from Abu Dhabi.
With a further 66 Boeing 787s due to be delivered over the next few years, the Dreamliners will become the airline's flagship long-haul aircraft.
"Today's travellers are increasingly looking for greater comfort, higher standards, more choice and better convenience as priorities in their decision-making and we, at Etihad Airways, are striving to meet their high expectations through innovations such as introducing new planes to the fleet and continuing to upgrade our routes," added Hogan.
Etihad Airways' newest 787-9 variant will include highly-acclaimed interiors featuring 28 Business Studios and 271 Economy Smart Seats, which the airline claims offers "superior levels of comfort, entertainment and in-flight connectivity".
On-board décor and lighting have been inspired by contemporary modern Arabian design, complementing the new 'Facets of Abu Dhabi' design identity introduced by the airline during its livery re-launch last year.