Etihad donates AED70,000 to breast cancer charity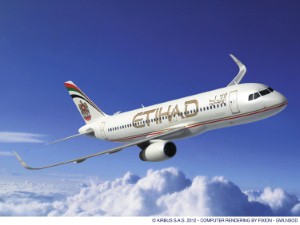 The national airline of the UAE, Etihad Airways, has donated more than AED70,000 (£11,500) to Breast Cancer Arabia - a charity that supports women after their diagnosis.
Staff members raised the money by making donations themselves and hosting several events, such as healthy cooking classes and a pink-themed bake sale. Money was also made through the sale of pink ribbons and bracelets.
Aubrey Tiedt, vice-president of guest services at Etihad Airways, and Linden Coppell, head of sustainability at the airline, presented the cheque to Dr Richard Reyes, medical director of Breast Cancer Arabia.
"We are very pleased once again to support breast cancer awareness initiatives within our local community. We believe it is important to raise awareness within the UAE and to help provide the necessary treatment and care to those women who don't have the means to pay for it," said Ms Tiedt.
During October, Etihad Airways is planning more events to coincide with breast cancer awareness month, which is a globally-recognised occasion. The firm wishes to improve understanding of the disease among its staff and the UAE.
Last year, the airline offered staff and their spouses the chance to be screened for cancer and undergo a mammogram without paying anything towards the cost. This programme was a collaborative project, with Etihad Airways working alongside Burjeel Hospital, which provided a mobile screening unit.
The donation was made to Breast Cancer Arabia in recognition of the hard work the organisation has done in order to raise awareness of the disease and options available to those diagnosed. The charity also funds the treatment and aftercare of women with breast cancer.
Dr Reyes said: "We are grateful for the donation provided by Etihad Airways to support Breast Cancer Arabia. These funds will be used to help women who are simply not able to afford the care they need and thus giving them a greater chance of surviving this life threatening disease."