Etihad 'close to next stage of Air Berlin partnership'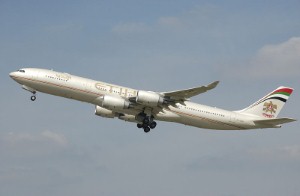 Etihad Airways is close to reaching the next phase of its partnership with Airberlin.
James Hogan, president and chief executive of the company, stated all of its key objectives had been met and it was now in the final stages of collaboration with its German counterpart. According to media reports, the UAE-based carrier could increase its stake in the European firm to 49.9 per cent from its current 29.2 per cent.
Airberlin has meanwhile decided to delay the release of its annual results, to allow it more time to work on recapitalisation. The company claimed they will be postponed until the end of this month at the very latest. Share prices for the airline have been volatile in recent weeks, due to high levels of uncertainty about its future.
The German carrier said it was in continuous negotiations with shareholders and other interested parties to strengthen the equity and liquidity of the group. Two of the possible scenarios discussed are for Etihad to increase its stake in the firm, or for Airberlin to go private.
If the UAE airline was to cross the threshold of owning 30 per cent of the business, it would be obliged under German regulations to make an offer to other shareholders at the average stock price over the previous 90 days. However, if Airberlin was privatised, Etihad could raise its stake up to 49.9 per cent without facing any extra hurdles. 
The deal with Airberlin is just the latest in the UAE airline's strategy of growing its operations by forming 'equity alliances'. This enables it to increase its reach into strategically important regions. Last year, the business took the total number of partners to seven. It has now formed agreements with firms such as Virgin Australia, Air Seychelles, Aer Lingus and Jet Airways.
Meanwhile, Etihad is also said to be holding talks to take a partial stake in Alitalia. If successful, it would become the airline's biggest acquisition to date.