Etihad Airways wins prestigious innovation award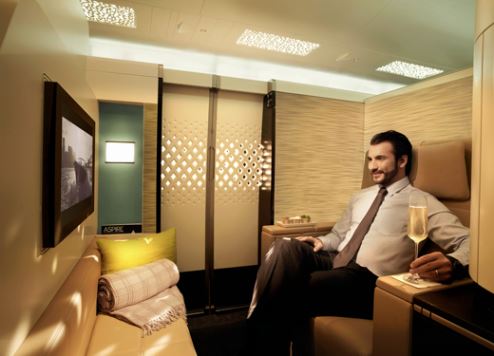 Etihad Airways, a strategic partner of The First Group, has won the prestigious 'Innovation in Travel Award' at the Travel Weekly Globe Travel Awards in the United Kingdom.
This prestigious award is presented to a company that has launched an innovation or development that has had a clear impact in the travel sector.
The award, which was judged by a panel of industry experts, was presented to Etihad Airways for The Residence – the world's only private three-room cabin on a commercial aircraft.
The revolutionary cabin is the result of a seven-year research and development programme conducted at the airline's Innovation Centre in Abu Dhabi, led by the Etihad Design Consortium.
Available on the airline's Airbus A380 fleet, The Residence measures 125 square feet and features a living room, separate en-suite shower room, double bedroom and a dedicated Savoy Hotel-trained butler.
"This revolutionary cabin has changed the landscape of premium airline travel, providing levels of luxury found only on the most advanced private jets," said Etihad Airways senior vice president marketing Shane O'Hare.
"We are delighted to have been recognised by the Globe Travel Awards panel of experts, who have voted The Residence as the best innovation in travel."
Etihad Airways offers The Residence on A380 flights to London, New York and Sydney and will introduce the aircraft on its Mumbai and Melbourne routes this year.
The dedicated Etihad Lifestyle Concierge team, which works closely with the airline's Butlers in-flight, delivers a highly personalised experience to guests staying in The Residence, offering a range of services including dining reservations, entertainment bookings, special events, destination information and lifestyle services. On the ground, a VIP Concierge team assists guests with all check-in and security formalities.