Etihad Airways transports record cargo volumes in September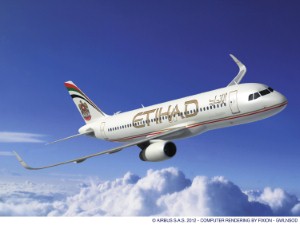 Etihad Airways has announced record cargo figures for September.
The airline - one of The First Group's partners - carried 45,175 tonnes throughout the month, up 42 per cent from the 31,826 tonnes in the same period last year.
It performed 77 charter missions last month - a 185 per cent improvement compared to the 27 flown a year before. A number of VIP cargo charters were also said to have been provided during the month.
Chief strategy and planning officer for the airline Kevin Knight said: "This is the biggest monthly tonnage Etihad Cargo has ever carried across its network, and that's a reflection of improved capacity utilisation on our freighter fleet, more cargo in the bellyhold of our passenger aircraft, greater synergies with our global partners, and, importantly, a well-performing charter business."
The airline has also been helping to provide aid to Syrian refugees. Volunteers from the company have been working with UAE Red Crescent to support and provide assistance to the locals.  
Etihad Airways' president and chief executive James Hogan said the enterprise is happy "to offer logistics assistance in support of the significant humanitarian aid provided by the UAE government".
It also recently delivered 200 tonnes of food and humanitarian aid to Ouagadougou in West Africa.
Earlier this month, the organisation reported record growth for the third quarter of the year. Revenue from passenger services alone resulted in more than $1 billion (£626 million), with over three million people flying with the airline. Its total revenue rose 11 per cent year-on-year to $1.4 billion.
Cargo again, however, had the biggest increase, with dividends up 39 per cent to $244 million. This is an area - as September's figures may suggest - which is still growing.
Mr Knight said the company is looking forward to the final quarter of the year, expecting seasonal load factors to be above average. He also highlighted the integration of its subsidiary Etihad Airport Services into itself, which would deliver more benefits to the Etihad Cargo arm of operations.