Etihad Airways strengthens Germany links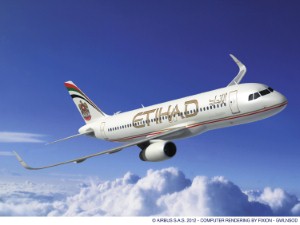 Etihad Airways - a valued partner of The First Group - has increased its presence in Germany with the unveiling of its new European headquarters in Berlin.
The company is the national airline of the UAE and is one of the fastest growing carriers on the planet.
Etihad purchased a 29 per cent stake in airberlin in December 2011 and the firm clearly views Germany as a vital market.
President and chief executive of the Gulf business James Hogan said: 'Germany remains a critically important part of Etihad Airways' growing passenger and cargo network, and while much of Europe continues to face challenges linked to the prevailing euro crisis, the German inbound and outbound travel [sector] is performing well for us.'
His comments came after Etihad opened its new base in Berlin's historic Potsdamer Platz, which will now house its European and Germany sales and marketing teams. Mr Hogan said the move made 'sound business sense'.
In 2012, Etihad carried more than 530,000 guests to and from Germany, which was a 47 per cent increase on the previous year.
This upturn was attributed to stronger feeder traffic coming from airberlin, an increase in capacity on Frankfurt and Munich services and the launch of new Dusseldorf flights.
Mr Hogan added that this quarter is shaping up to be the busiest on record and Etihad is well on course to meet its passenger targets for 2013.
Etihad has expanded at a breathtaking rate in the past few years and the company recently said it would be open to more equity investments in the future.
As well as the airberlin deal, Etihad has recently acquired 24 per cent of India's Jet Airways, 49 per cent of Air Serbia and 19.9 per cent of Virgin Australia.
Mr Hogan commented last week that equity investments 'deliver synergy benefits which cannot be achieved through legacy airline alliances' and more strategic partnerships will be considered if they add value to the airline.