Etihad Airways set to launch more Sri Lanka services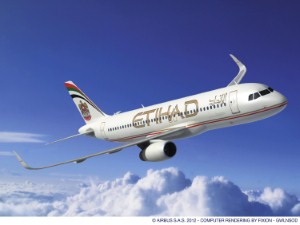 Etihad Airways - the national carrier of the UAE - has announced plans to increase the number of flights between Abu Dhabi and Colombo in Sri Lanka.
From February 16th 2014, the airline will provide double-daily services between the two destinations, rather than the current seven flights a week.
Once operational, the extra journeys will open up an additional 1,900 seats a week.
The services will also lead to a 46 per cent rise in the number of connections to key destinations, such as the UK, Europe, Africa and other nations within the Gulf Cooperation Council.
This is the latest in a long line of new additions to Etihad's timetable, as the company continues to expand at pace.
Kevin Knight, Etihad Airways' chief strategy and planning officer, said Colombo is an increasingly important trading partner for the UAE, hence the urgent need for more flights between the two destinations.
'Our new second daily flight to Colombo will strengthen our position in the Sri Lankan market and offer our guests more convenient travel options and improved connections to many key destinations across our global network,' he commented.
'The new flights will also further strengthen commercial and cultural ties between Sri Lanka and the UAE.'
Etihad has built strong links with Sri Lankan Airlines and this is one of many partnerships that is bearing fruit for the UAE-based carrier.
This week (October 21st), the company has also announced it has expanded its codeshare arrangement with Korean Air - South Korea's largest airline.
As part of the deal, Etihad will have its EY code placed on Korean Air services from Seoul to Honolulu, Hong Kong and Vancouver, while Korean Air will attach its KE code to Etihad flights from Abu Dhabi to Johannesburg, Muscat and Khartoum. The latter is subject to government approval.
Etihad president and chief executive officer James Hogan said he looks forward to 'broadening the scope' of the codeshare agreement with Korean Air, which was originally signed in July this year.