Etihad Airways reports record growth for Q3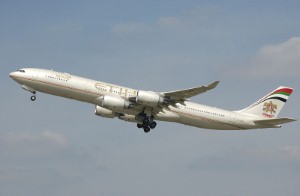 Etihad Airways has reported record growth in business and passenger volumes for the third quarter of this year.
This follows on from previous growth documented by the airline - a partner of The First Group - with revenue from its passenger services reaching over $1 billion (£623 million) for the first time and volume figures surpassing three million passengers.
Passenger profits were up ten per cent year-on-year for the third quarter, with yields from cargo also up 39 per cent to $244 million.
In total, revenue was up 11 per cent to $1.4 billion, compared to the $1.3 billion reported in the same period last year.
President and chief executive officer for Etihad Airways James Hogan said the company will continue to invest in other airlines as part of expansion plans.
'In addition to our own growth in Q3, we continued to develop our partnership strategy,' he stated.
It is continuing with plans to purchase a 24 per cent share of Jet Airways and a five-year contract for Air Serbia, also known as Jat Airways. Further partnerships were announced with Virgin Australia, South African Airways, Korean Air and Air Canada.
The company's plans to acquire almost a quarter of Jet Airways was reportedly approved by the Indian Cabinet on Friday (October 4th). Etihad's $379 million plans were previously delayed over discussions on who would operate the airline and still need approval from the Competition Commission of India.
This is part of the country's Foreign Direct Investment regulations - under which foreign companies can purchase up to 49 per cent of India's domestic airlines - with Etihad being the first to offer investment.
Mr Hogan said, after the latest acquisitions and partnerships, the airline has 46 codeshare agreements and serves 375 destinations.
News also suggests Etihad and Jet Airways will be looking to purchase a number of new planes at the upcoming Dubai Air Show (November 17th-21st). This is an important event for the airplane industry in Dubai and the Middle East, with many airlines looking to make important purchases at this time.