Etihad Airways 'redefines' luxury travel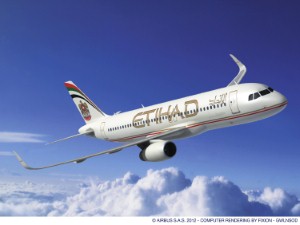 Etihad Airways may have redefined luxury travel by offering passengers the chance to fly in a $43,000 (£25,600) three-room suite when jet-setting across the world, according to Business Week.
The airline's new offering - referred to as 'The Residence' - is currently being developed and has been dreamt up to offer wealthy travellers an alternative to the first-class cabins being offered by competitors. Instead of a seat that can be turned into a bed, Etihad will give customers their very own opulent suite.
For those with extravagant tastes, the airline will offer a range of amenities, including an on-board gourmet chef, a private butler and a personalised service from the VIP travel concierge that will be at passengers' beck and call when they travel on the company's Airbus A380 flights.
Dannii Minogue, spokesperson for Etihad Airways, unveiled the majestic suites on a video uploaded to the firm's YouTube channel. She said: "This is the ultimate in luxury. This is what you would expect if you were staying at the finest hotel or if you're on a super-yacht or traveling by private jet."
These suites aren't for everyone, as they come with a price tag of $43,000 for two passengers sharing the 125 square foot, three-room air-borne apartment. Passengers will be able to book these luxury flights from December this year, Business Week reported.
'The Residence' comes with seats made from the same leather used in Ferraris, a 32-inch flat screen television, an en-suite bathroom that comes complete with a shower and a bedroom fitted about with expensive Egyptian cotton sheet, as well as a luxuriously comfortable mattress.
In the video, Ms Minogue added: "This is the ultimate luxury above the clouds."
Passengers landing in Dubai will be eager to stay in hotels that can match the grandeur of the flight they have just departed and will more than likely be ready to indulge in some retail therapy during their stay.