Etihad Airways recognised for 'outstanding service'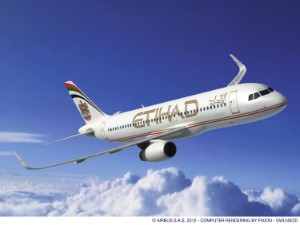 Etihad Airways is celebrating after it picked up a major international air transport award.
The carrier, which is a partner of The First Group, was recognised at Air Transport World magazine's 40th Annual Airline Industry Achievement Awards for its outstanding service and excellence across its operations.
James Hogan, Etihad Airways' president and chief executive officer, said the win is testament to the "innovation and policy of sound strategic investments across the entire business".
"We have a firm commitment to our stakeholders to make Etihad Airways the best airline in the world and 2014 is set to be another milestone year for us," he stated.
The company recently announced it is going to double the number of flights to and from New York, which means there will be more choice for Abu Dhabi businesses, government officials, expatriates and leisure travellers.
A second daily service will run from March 1st 2014, with one flight taking off in early morning and another leaving late in the evening. Mr Hogan revealed the New York-Abu Dhabi route is one of its most popular, adding the announcement is further evidence of the growing importance of Abu Dhabi as a global air transport hub.
"The flights also [open up] fresh opportunities for tourism to the UAE and beyond to destinations throughout the Middle East," he remarked. 
It rounds off a good few days for Etihad, as the carrier was also honoured at China's 2013 Travel Awards, where it picked up the accolade of Best First Class Cabin. According to Mr Hogan, it caps a "stellar year of wins and accolades for the airline".
These include being named the World's Leading Airline for the fifth consecutive year at the World Travel Awards in 2013, being announced as Global Traveler's Airline of the Year and coming in the top two of the world's safest airlines in 2013 at airlineratings.com.