Etihad Airways ready to fly fleet of luxury Airbus A380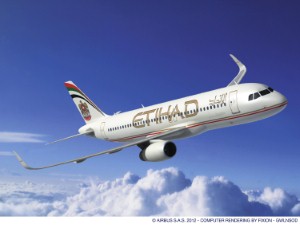 Last month, Etihad Airways started to sell tickets for flights aboard its yet-to-be launched Airbus A380s and Boeing 787s and analysts believe that once these state-of-art planes start to fly the airline will outshine competitors by offering an unrivalled level of luxury.
Today (September 25th), the airline will take delivery of the first of ten A380s - all of which will come with ultra-premium two-person cabins and first-class 'apartments' for those who can afford the added grandeur. 'The Residence by Etihad' is a concept exclusive to the A380 and will feature a three-room cabin in the sky and will cost $43,000 (£25,900).
Will Horton, a senior analyst at the Sydney-based Capa Centre for Aviation, told The National: "Many people have already found Etihad to have a superior premium product than Emirates. Etihad may not have Emirates' A380 bar, but people like Etihad offering lie-flat, direct-aisle-access business class seats across its long-haul fleet. Emirates and Qatar don't have that."
The analyst added that the recently revealed specifications for Qatar Airways' A380 has failed to impress as they have opted for practicality over luxury, meaning they offer no real competition for Etihad.
Daniel Tsang, the founder and chief analyst at the Hong Kong-based aviation consultancy Aspire Aviation, told The National that differentiation in strategies is key to succeeding for airlines and Etihad has chosen to adopt an equity-alliance and luxury approach to stand out from its crowd of competitors in the Middle East.
Once flights begin, the A380 will travel to and from Sydney three times daily, whereas its Boeing 787s will carry passengers to Düsseldorf, Doha, Washington DC, Mumbai, Brisbane and Moscow.
The first flights will begin at the end of the year, travelling between Abu Dhabi and London Heathrow from December 27th. Passengers wishing to travel to Düsseldorf or Doha will be able to arrange travel from the end of 2014, whereas those wanting to visit Washington DC and Mumbai will have to wait until June next year.