Etihad Airways 'one of the world's safest airlines'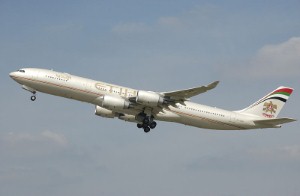 UAE-based Etihad Airways has been described as one of the world's safest airlines in the world, according to AirlineRatings.com.
In a survey of 449 firms, the ratings website ranked the airline as one of the top ten safest for 2015.
The rating system takes into account a variety of factors related to audits from the governing bodies of the aviation industry and lead associations, as well as government assessments and the airlines' own records.
Commented on Etihad Airways' position in the ratings, James Hogan, chief executive officer for the firm, said: 'Our commitment to the safety and security of our guests and staff is a cornerstone of our company.
'We're naturally delighted to be listed in the top ten and that's where we want to stay. All of our staff are accountable for the delivery of the highest level of safety performance.'
The airline's Innovation Centre in Abu Dhabi, home to a training academy, is an example of the its unique approach to business. Employees learning about their new role are able to take advantage of the largest A380 and B787 cabin and safety trainer facility in the world.
Using data supplied by Airbus and Boeing, the 30-metres long safety trainers are fully functioning models and were built under licence, providing trainees with an experience that resembles reality as closely as possible.
Geoffrey Thomas, editor of AirlineRatings.com, said: 'Etihad Airways is one of small group of elite airlines that are both seven-star for safety and for product. From a safety perspective Etihad Airways has made excellence in safety a number one priority and has become a benchmark for best practice.'
The last few months have been full of achievements for the airline, winning several awards at the 21st annual World Travel Awards, the Travel Media Awards and Blue Insurance Travel Media Awards. Etihad Airways scooped accolades for best long-haul flight and best business class.
In December, the airline launched its first Airbus A380 and Boeing 787 aircraft, which will start carrying passengers later this month.