Etihad Airways 'one of the big winners' of World Travel Awards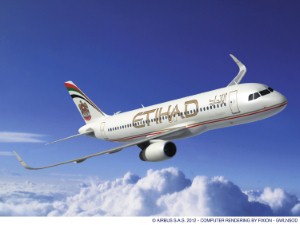 Etihad Airways was among the big winners of the recent 21st annual World Travel Awards, held at the CuisinArt Golf Resort & Spa in Anguilla in early December.
The event, which is perceived to be the 'Oscars' of the travel world, honoured the best companies in the industry in several categories, from the 'World's Leading Airport' to the 'World's Leading Boutique Cruise'.
Etihad Airways, the flag carrier airline of the UAE, successfully defended its title as the 'World's Leading Airline' for the sixth consecutive year at the 2014 ceremony, which was attended by over 300 international hospitality industry leaders.
The airline has had a successful year, winning several awards from different organisations. Earlier this month, the firm was named 'Best Long-Haul Airline' at the Blue Insurance Travel Media Awards, and 'Best Long-Haul Airline' and 'Best Business Class Airline' prizes at the Irish Travel Trade Awards.
Commenting on being presented with these prestigious industry accolades, Beatrice Cosgrove, Etihad Airways' Ireland country manager, said: 'Industry recognition like this is fantastic for Etihad Airways and illustrates the positive impact we continue to make in meeting and exceeding the expectations of our guests in Ireland.
'We're proud to be in this position as a leader in product and service delivery and will use these awards as a springboard for more success.'
The World Travel Awards are widely regarded as the most celebrated event in the travel industry and is perceived as a venue for government and industry leaders to connect with international print and broadcast media.
Receiving such an accolade significantly raises a company's international profile, boosting profitability and global recognition, according to the organisers of the event.
Graham Cooke, president of the World Travel Awards, commented: 'Tourism is a vital part of [the world's] economy, and we have been working closely with the local and international businesses community to implement a number of groundbreaking initiatives over the last two years to generate tourism growth.'