Etihad Airways named 'airline of the year'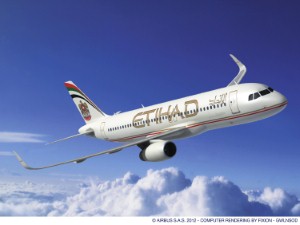 UAE-based Etihad Airways has been named airline of the year at the 2015 Aviation 100 Awards.
The event - organised by the Airline Economics magazine - sees firms receive accolades based on votes from the businesses within the aviation industry and recognises outstanding achievements.
Being named airline of the year is just the cherry on the cake for Etihad, as the last 12 months have been full of wins for the company.
In 2014, the airline took a quantum leap in terms of growth, innovation and service, launching ten new routes and injecting significant amounts of money into new equity partnerships.
Last year, the firm unveiled a totally different look for both its planes and staff uniforms, while also updating the service it offers during flights. Perhaps the most noticeable addition was its 'Residence by Etihad' - a butler-served luxury apartment in the sky.
The airline of the year prize from the Aviation 100 Awards will go in the trophy cabinet alongside a host of other accolades bestowed upon the firm, including being voted one of the world's safest airlines by AirlineRatings.com and the world's leading airline by the World Travel Awards.
Etihad has ascended to the top of the industry, despite only being founded in 2003.
Commenting on the latest win, James Hogan, president and chief executive officer of the airline, said: "We are immensely proud that the achievements we made in 2014 have been recognised by our peers in the industry. These awards remind us of the significant progress the airline has made in such a short space of time."
He described 2014 as a pivotal year for Etihad, which saw it move to the forefront of the industry due to its innovative ideas and opportunities. Mr Hogan said the firm is looking forward to achieving even more in 2015 and will continue to grow, while supporting employees and partners, including The First Group.
Philip Tozer-Pennington, managing editor of Airline Economics, added: "The Airline of the Year vote recognises performance in fleet and financial management and execution of business plan - which in the case of Etihad Airways also takes into account its amazing ability to expand at very little cost into key markets across the globe in 2014."