Etihad Airways looks to increase its presence in Australia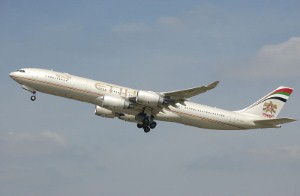 Bosses at Etihad Airways have announced plans to enhance the company's presence in Australia.
President and chief executive officer at the firm James Hogan said the airline wants to introduce new services between Sydney, Melbourne, Perth, Brisbane and Abu Dhabi and the business is also looking to increase its share in Virgin Australia.
The Foreign Investment Review Board has approved Etihad's plans to up its share in the carrier from ten per cent to 19.9 per cent.
Australia is an increasingly important market for the UAE, as a growing number of holidaymakers and investors from down under are travelling to the Middle East.
Mr Hogan said Etihad already has a strong presence in the country, with 28 planes leaving weekly. However, the firm is certainly not resting on its laurels.
'Virgin Australia is a key member of our ever-expanding airline equity alliance and Etihad Airways is an active and long-term investor in Virgin,' he remarked.
The partnership enables Etihad to reach 45 destinations in Australia, New Zealand and South-East Asia, while Virgin also benefits from the Abu Dhabi-based airline's extensive European network.
Etihad has secured numerous codesharing agreements with other airlines and last week it announced details of a 49 per cent takeover of JatAirways, which will now be rebranded as Air Serbia.
The new-look carrier will start running services between Abu Dhabi and Belgrade from October 2013 and this will obviously appeal to investors in Serbia.
Deputy prime minister of the Serbian government Aleksandar Vucic was delighted with the deal and insisted that passengers from his homeland will benefit from 'smooth flight connections'.
'Etihad Airways' reputation, financial strength and stability will be of significant benefit to Air Serbia and we are delighted to launch this strategic partnership,' he commented.
Like Australia, eastern Europe is an increasingly important market for the UAE and there has been a sharp increase in the number of traders from this part of the world looking to add Dubai-based properties to their investment portfolios.