Etihad Airways introduces 'Flying Nanny'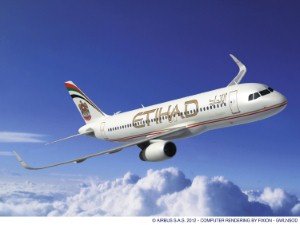 Etihad Airways believes families will benefit from the company's new 'Flying Nanny' initiative.
The airline has launched a scheme that it hopes will make life easier for parents who are travelling to and from the UAE.
Flying with a child in tow can be very stressful, which is why Etihad has put 300 of its cabin crew members through some extensive training to ensure they can lend a helping hand to families.
Having undertaken courses at the world renowned Norland College, the staff now have a clearer idea of how children behave - giving them a better chance of calming down agitated youngsters during a flight.
They can also keep youngsters entertained by introducing them to numerous friendly characters, including Zoe the bee, Jamool the camel, Kundai the lion and Boo the panda.
The new project will be rolled out by the carrier by the end of 2013, by which time around 500 of the company's employees will have completed the requisite training.
Aubrey Tiedt, Etihad Airways' vice president of guest services, said the initiative underlines the fact the carrier understands its customers' needs.
'The Flying Nanny will liaise with parents and use their experience and knowledge to make the travel experience easier. This includes helping serve children's meals early in the flight and offering activities and challenges to help entertain and occupy younger guests,' he commented.
There has been a sharp increase in the number of tourists travelling into the UAE and this is partly down to the incredible expansion of Etihad Airways - a partner of The First Group - over the years.
Bosses at the firm are always coming up with new ideas to promote travel to the Middle Eastern country and has this week (September 2nd) launched an Arabic Twitter account.
Like all major modern businesses, Etihad has a strong social media presence and people can now keep up to date with the airline's latest announcements by following @EtihadAirwaysAR on Twitter.
The company currently has 714,000 followers across its Arabic and English social networking channels, including 60,000 fans on its Arabic Facebook page.