Etihad Airways broadens services to Middle East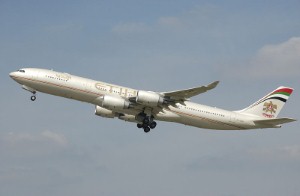 Etihad Airways is to increase the number of services it offers to Beirut and Amman, tripling the amount of daily flights from July.
According to the announcement, an additional 800 seats per week will be available between Abu Dhabi and the two middle eastern capitals.
As a result of these additions, passengers will have a wider range of options when travelling between the major cities, while the move will also improve links between Abu Dhabi and destinations such as Sydney, Melbourne and Manila.
Travellers in Jordan will also have greater access to Asian destinations including Bangkok, Kuala Lumpur and Jakarta.
James Hogan, president and chief executive of Etihad Airways, said: 'The Middle East network has been performing strongly. This increase in our services is indicative of the huge confidence we have in this important regional market.
'We have steadily increased frequencies on both routes in line with strong demand, not only to the capital of the UAE, but also via Abu Dhabi to and from key destinations in Asia and Australia.'
The route will be serviced by A320 aircraft, offering 120 economy class seats and 16 in business class.
Etihad has also announced it has reached a new agreement with Philippine Airlines that it is expected will result in a range of commercial benefits for each company.
The deal concerns codesharing, frequent flyer reciprocity, access to airport lounges, air pass agreements and cooperation on cargo. It is expected this will help to expand the cargo market on the route between UAE and the Philippines, while also making the company first choice for the 700,000 Filipinos living and working in the region.
Mr Hogan said the value of two-way trade between the two countries reached £830 million in 2013 and there is potential for the new agreement to boost this figure.
Etihad first launched services to the Philippines in 2006 and currently offers flights twice daily. The route between Abu Dhabi and Manila was the company's second busiest globally last year.