Etihad Airways brings 'momentous year' to a close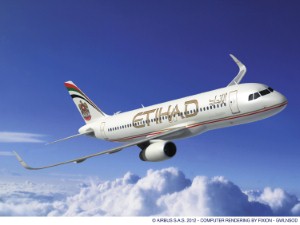 Etihad Airways, the national airline of the UAE, has brought a year of achievements to a close by unveiling its first Airbus A380 and Boeing 787 aircraft in front of an audience of more than 200 of the world's media.
Yesterday (December 18th), the doors of the flagship aircraft were opened for the first time, allowing the world a glimpse of the luxury cabin interiors, which include the ultra-premium 'Residence by Etihad' two-person cabins and first-class 'apartments' for those who can afford the added grandeur.
These cabins feature en-suite shower rooms and a separate bedroom, as well as a dedicated butler - a first for the industry - all for the price of $43,000 (£25,900).
In addition, the airline has unveiled a new cabin crew uniform at a glitzy fashion show, marking the first major redesign of the outfits since the firm's formation in 2003. The new colour scheme matches that of the cabin interior and new aircraft livery.
James Hogan, Etihad Airways' president and chief executive officer, said: 'As we have done so many times in our short history, we are reshaping the landscape of modern air travel in our own way.
'Today is the culmination of many years of hard work and tremendous endeavour by hundreds of people both in our airline and outside. With the launch of these aircraft, we usher in a new era of unparalleled luxury, comfort and service. These innovations represent our vision for the future.'
The airline also hosted an event for travel industry partners and a separate one for employees, ensuring that they can fully take in the onboard luxury. Overall, a total of 1,500 people toured the two new planes.
Both the A380 and Boeing 787 will now undergo test operations before starting commercial flights, with the A380 operating daily to London Heathrow from December 27th and the 787 to Dusseldorf from February 1st 2015.
In total, Etihad Airways will take delivery of four A380s and three Boeing 787-9s in 2015