Emirates unveils cabin enhancements for A380 and B777 fleet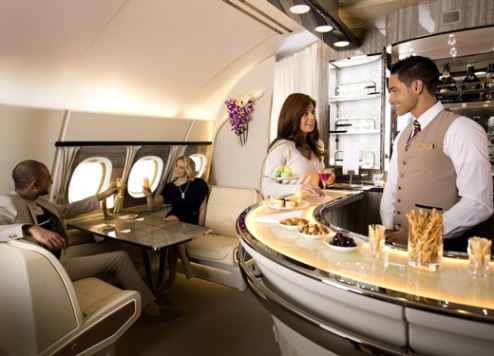 Emirates, which now runs an all A380 and B777 fleet, is set to launch a series of new cabin products and enhancements for all aircraft in 2017.
The multi-million-dollar cabin interiors upgrade programme includes an enhanced Onboard Lounge for its flagship Airbus A380 aircraft, the Dubai-based airline said in a statement.
The carrier said the A380 Lounge upgrade had been inspired by private yacht cabins, with seating space increased.
Emirates president Sir Tim Clark explained: "The A380 Onboard Lounge is hugely popular with our customers, and has become an iconic feature of Emirates' A380 offering. 
"Particularly on long-haul flights, our customers tell us they appreciate the opportunity to stretch their legs and mingle in the relaxed, yet classy lounge area.
"Since we first launched the product in 2008, our A380 Onboard Lounge has gone through small but successive enhancements in line with customer feedback to increase the amount of space for our customers to interact in the lounge."
The new onboard lounge is currently being installed on one of Emirates' brand new A380 aircraft at Airbus' facilities, and will make its operational debut in July, the airline added.
While retaining the trademark horseshoe-shaped bar, the lounge will offer more seating space with a new seating arrangement along the windows on both sides of the bar. Each seating area will have a table and window view.
Overall, the lounge can comfortably accommodate up to 26 passengers at a time, including eight seated.
Emirates will also introduce sound-proof curtains to partition the Onboard Lounge area from the other cabins; additional soft ambient lighting options; new window blinds with integrated LED mood lighting; and subwoofers for surround sound. The lounge also features a 55-inch LCD screen.
All of Emirates' 93 A380s currently in service feature the Onboard Lounge. The enhanced lounge product will be similarly located on the upper deck of the aircraft, for First and Business Class passengers.
Emirates flies the A380 to 46 cities and is the world's largest operator of the aircraft with a further 49 on order. Emirates has carried nearly 70 million passengers on its flagship aircraft since 2008.