Emirates to ramp up service between Dubai and Dublin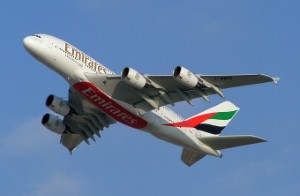 Air capacity between Ireland and the UAE is set to rise, in a move that could boost trade between the two countries.
Emirates Airlines has announced it is to double its service between Dublin and Dubai in the coming months, following a meeting between its chief executive Tim Clark and taoiseach Enda Kenny at its headquarters in the emirate.
Flights between Dublin and Dubai run by Emirates have been in operation since January 2012, but the company now feels it is time to up capacity. This will provide more opportunities not only for business travellers, but also tourists who wish to check out what the UAE has to offer.
Many employment opportunities in Ireland currently exist thanks to Emirates, with the airline boasting more than 250 cabin crew who are based in Ireland. They are just part of an overall workforce of around 400 from the Emerald Isle, noted the Irish Times.
During the first three days of the current Irish trade mission to the Middle East, a total of nine companies announced they have secured new contracts and business projects worth in excess of $25 million (£15.2 million).
This only serves to underline just how important Dubai and the UAE is as a commercial hub, even for countries some distance away such as Ireland.
So far, the contracts signed involve work being carried out in Qatar and Saudi Arabia, but there are still two more days of the mission remaining, with it set to focus on the UAE during this time. It remains to be seen how many Irish firms will also sign deals there.
Mr Kenny is currently in the UAE to mark the second anniversary of Emirates' Dublin to Dubai route and it has clearly been agreed that increasing the capacity on this service is a priority.