Emirates to move to Al Maktoum after 2020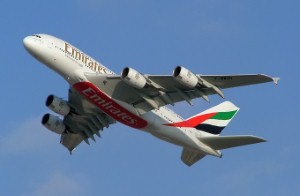 The Emirates airline will move all of its operations to the Al Maktoum International Airport after 2020.
Khalifa Al Zaffin, executive chairman of Dubai Aviation City Corp, said the capacity is there for the leading carrier, however, the final decision on timescales will be taken by the Dubai government, Reuters reports.
At the moment, Emirates operates from Dubai International. This older airport has a terminal dedicated to Airbus A380 superjumbos, an airplane that Emirates uses extensively.
The airport officially launched passenger services in October last year and airlines have been offered discounts to move their operations to the site from Dubai International.
Essential repairs are going to be carried out on the latter's runways in May of this year, so officials at Al Maktoum International Airport are hopeful of convincing some carriers to change their operations to limit disruption.
By 2020, the airport will be able to handle 130 million passengers annually, although capacity is only seven million at the moment - plans are for it to eventually reach 160 million.
Passenger traffic in Dubai has been growing steadily over the past few years as the government seeks to push the emirate as a prime global business investment and tourist location.
Indeed, a recent report by the Dubai Civil Aviation Authority (DCAA) has shown that the emirate's aviation sector is in rude health, as it seeks to become the world's biggest in terms of international passengers.
Mohammed Abdulla Ahli, director general of DCAA, said: 'The aviation industry has undergone profound changes with its economic impact gaining solid grounds, especially in Dubai where its GDP contribution is expected to go up to 32 per cent in 2020.'
He added there are 3,000 interlocking bilateral air services agreements in place and these will be used to foster growth in the industry.