Emirates takes Dubai's aviation achievements to new heights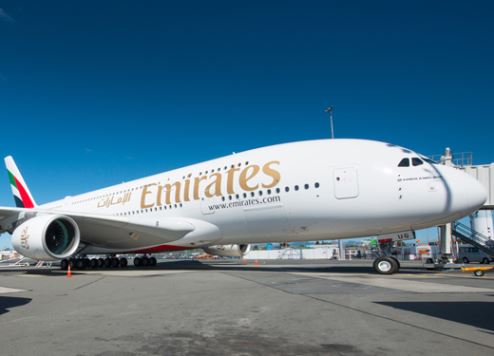 Dubai's award-winning international airline rounds off a year of growth with fleet and product milestones
The success of Dubai as a leading tourism and business destination has always been "intrinsically linked" to the ongoing success – and growth – of Emirates Airline, according to His Highness Sheikh Ahmed bin Saeed Al Maktoum, chairman and CEO of the Emirates Group.
The aviation sector is a crucial economic pillar for the city, accounting for more than 27 percent of Dubai's GDP, or US$26.7 billion, according to Oxford Economics. This is expected to increase to 37.5 percent by 2020 with a total annualised impact of $53.1 billion, according to Dubai Airports CEO Paul Griffiths.
"I think you will find that today and most definitely in the future, the relationship between the city and the aviation industry productivity of Dubai is unparalleled," he adds.
Emirates, as well as sister company dnata, responsible for ground handling, cargo and travel services, are arguably the most significant key stakeholders driving the prosperity of the aviation sector and its growing impact on the wider economy.
In 2016, Emirates, which is now the world's largest international airline, rounded off another year of growth, underlined by fleet and network expansion, as well as customer focused product investments.
President Sir Tim Clark says consumer appetite for travel remained resilient last year, "despite socio-economic and political headwinds around the globe", which was reflected in the airline's operational growth.
"Emirates will continue its strategy of organic growth, leveraging the geo-centricity of the UAE, and Dubai's dynamic developments in tourism and commerce," he says.
"We will also continue to invest in our product and services, offering our customers an outstanding experience and value proposition while they discover the world."
In 2016, Emirates topped The Brand Finance Global 500 report as the world's most valuable airline brand.
The airline's brand value grew more than 17 percent to $7.7 billion, re-affirming the pivotal role it plays in promoting Dubai and boosting its economy.
An all Airbus A380 and Boeing 777 fleet
Emirates scaled up its fleet in 2016 with the addition of 36 new aircraft – 20 A380s and 16 Boeing 777-300ERs – while retiring 29 older aircraft.
The airline concluded the year with 255 aircraft in service, with an average age of five years, significantly below the industry average of more than 11 years.
Keeping its fleet young not only minimises Emirates' overall carbon footprint, but it also enables the airline to put the latest products and services onboard its aircraft.  
In April, Emirates placed an order for two additional A380 aircraft, taking its total A380 order book to 142, cementing its position as the world's largest operator of the popular double-decker.
In November, Emirates became the only airline to operate an all A380 and Boeing 777 fleet. The carrier also began taking delivery of its newest generation A380 and B777-300ER aircraft.
The new A380 has several notable new features including an enhanced seat configuration in Economy Class, and a higher ceiling in the Business Class Cabin for a more spacious feel. Emirates' new Boeing 777-300ERs, delivered from November, also feature the airline's new Business Class seat.
Network expansion
Emirates added seven new passenger points and one cargo destination in 2016, rounding off the year with 154 destinations in its global network.
New passenger services were launched to Cebu and Clark in the Philippines, Yinchuan and Zhengzhou in China, Yangon in Myanmar, Hanoi in Vietnam, Fort Lauderdale in the US and cargo-only destination Phnom Penh in Cambodia.  
Emirates also expanded its A380 network to 44 destinations with the addition of eight new points.
Today it operates the longest A380 service in the world from Dubai to Auckland and also the world's shortest A380 service, to Doha.
Customer experience investments
Emirates was named World's Best Airline 2016 at the Skytrax World Airline Awards, and in the past year, has invested in a series of product developments and service enhancements, both in the air and on the ground.
The new improved B777 Business Class seat has a pitch of 72 inches that can be moved into a fully flat 180-degree sleeping position, a personal mini-bar, as well as one of the industry's largest personal TV screens at 23 inches with the ability to stream personal mobile content. 
Emirates continued to strengthen its in-flight entertainment (IFE) offering. With the airline now operating an all-A380 and B777 fleet, customers on all flights can access on-demand entertainment with up to 2,600 channels of movies, music, TV shows, games and more, from which to choose.
In October, Emirates signed an agreement with Thales to equip its Boeing 777X fleet with the Thales AVANT in-flight entertainment system, which will make its debut in mid-2020.
A reflection of tech-driven lifestyle trends, more than 8.8 million Emirates passengers connected to Wi-Fi on board in 2016. In addition, more than 400,000 phone calls were made in-flight, and 1.7 million SMS messages were transmitted by passengers.
For its premium passengers, Emirates rolled out a range of enhancements onboard with luxury in mind. New additions in First Class included the world's first moisturising lounge wear designed for an airline, keeping skin hydrated during the flight. New blankets were introduced including plush faux sheep-skin blankets for First Class and soft duvets for Business Class passengers. 
On the ground, Emirates this year completed a $11 million refurbishment of its Business Class lounge at Concourse B in Dubai, which now includes a barista experience, a health hub with Voss water, and an exclusive Moët & Chandon champagne lounge.
The airline also extended its dedicated lounge network with the opening of its lounge in Cape Town.
Skywards enhancements
Building on the strength of its loyalty schemes, the airline's frequent flyer programme, Emirates Skywards, marked a milestone of 16 million members by launching Cash+Miles. The innovative flight redemption programme allowed members to redeem a combination of cash and Skywards Miles on any Emirates flight, reducing the cost of tickets and making any seat available for members.
The airline also revamped its corporate loyalty programme, Emirates Business Rewards, delivering a more competitive and easier redemption process for flights as well as upgrades at any time for businesses.