Emirates reveals customer benefits of flydubai partnership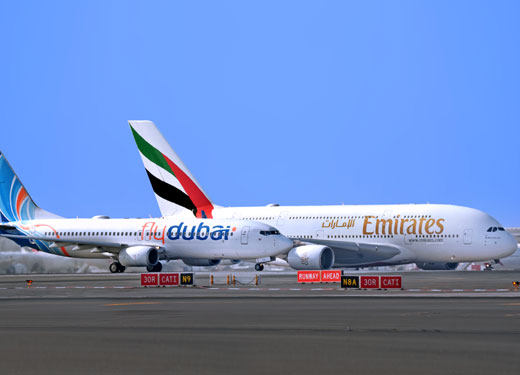 More than 5.27 million international passengers have benefitted from Emirates Airline's codeshare agreement and broader strategic partnership with low-cost carrier flydubai since the deal launched in October 2017, Emirates has revealed.
The Dubai flag carrier, which was named the world' fourth-most valuable airline brand earlier this year, is a long-term partner of The First Group.
Emirates also revealed 800,000 members of its Skywards loyalty programme had earned more than 1.5 billion Skywards Miles on Emirates and flydubai codeshare itineraries in the last 12 months. All clients of The First Group receive complimentary Gold membership of the Skywards programme.
According to Emirates, flight benefits remain the most popular redemption option, with members spending some 500 million miles on flydubai flights in the past year, with top destinations including Dubai, Beirut, Karachi, Alexandria, Tbilisi, Sabiha Gokcen, Bucharest, and Baku.
Commenting on the milestone achievements, HH Sheikh Ahmed bin Saeed Al Maktoum, chairman and CEO of Emirates Group, and chairman of flydubai said: "The strategic partnership between Emirates and flydubai has been a success, generating benefits for travellers, for both airlines, and for Dubai. Moving forward, both Emirates and flydubai will continue to develop the partnership to deliver even better customer journeys and better value for travellers and all stakeholders."
Today, Emirates passengers can seamlessly connect to 94 destinations on the flydubai network via Dubai International Airport, and flydubai passengers can access 143 Emirates destinations.
Globally, the favourite flydubai destinations for Emirates passengers are Belgrade, Bucharest, Catania, Kathmandu, Kiev, Kilimanjaro, Krakow, Salalah, Tbilisi, and Zanzibar.